2nd June 2023
| Lieutenancy News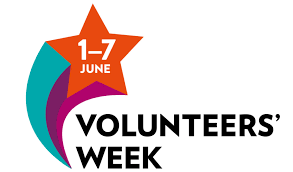 Volunteers' Week 2023
Surrey Lieutenancy is delighted to mark Volunteers' Week 2023 – a time to celebrate the important contribution of volunteers, who support Surrey's communities in thousands of ways making a difference to some of the most vulnerable in our communities.
Volunteering makes a difference, not only to the people you're supporting but for your own well being and development – If you would like to find out about the latest volunteering opportunities you can contact a Volunteer Centre near you and they will be happy to help.
Search for volunteering opportunities based on your location and interests online – Surrey County Council (surreycc.gov.uk)
The Lord Lieutenant's Awards of Appreciation, launched on 24 February 2021, aim to recognise individuals who contribute exceptional service to our local communities but whose efforts are too often overlooked. Many people – of all ages, gender and ethnicities – are adding real value at every level to the quality of life in Surrey. These Awards provide a way of recognising and thanking individuals whose important contribution deserves to be more widely appreciated across the county.
The task of nominating suitable candidates – those who go 'above and beyond' as volunteers of all kinds – lies with the 46 Surrey Deputy Lieutenants. Their role is to consult widely across their local communities, with the aim of making up to 50 Awards each year.
If there is someone you think should be considered for the Lord Lieutenant's Award, please give your recommendation to a Deputy Lieutenant known to you, or contact the Lieutenancy Office, whose address you will find on our website, who will put you in touch with the Deputy Lieutenant responsible for your area.
These Awards are an important part of celebrating what is best in Surrey. As the Lord Lieutenant, Michael More-Molyneux, has said: 'I fervently hope that these new Awards will have real value in embedding a sense of the county's gratitude to so many individuals who dedicate selfless work to their communities.'