The Queen's Awards for Enterprise are the highest accolade for business success. Honouring outstanding UK companies, they encourage the development of British business and recognise companies in four categories:
International trade
Demonstrating growth in overseas earnings.
Innovation
Proven commercial success through innovative products or services.
Sustainable development
Integrating environmental, social, economic and management aspects of sustainable development into their business.
Promoting Opportunity through social mobility
Have had a social mobility programme running for more than two years, helping socially disadvantaged individuals or groups.
The awards are made each year by HM The Queen, on the advice of the Prime Minister assisted by an Advisory Committee that includes representatives of Government, industry and commerce, and the trade unions. Winners enjoy a range of benefits, including worldwide recognition and extensive press coverage.
The deadline for entries is 1pm on 6th September 2022. Winners are announced on The Queen's personal birthday, 21st April. Successful winners and their nominees are informed shortly before the announcement and invited to a reception at Buckingham Palace, which takes place in July. The Lord-Lieutenant, Michael More-Molyneux, or one of his Deputy Lieutenants, then presents the Awards to any successful businesses in Surrey.
To find out more about how to nominate for the next round of awards, please visit www.gov.uk/queens-awards-for-enterprise


---
Recent winners in Surrey
2022
Manta Hair Limited, Thames Ditton (Innovation)
Silent Pool Distillers, Albury (International Trade)
Stanhope-Seta, Limited, Chertsey (International Trade)
Wates Group Limited, Leatherhead, (Sustainability)
2021
Hallmarq Veterinary Imaging Guildford (Innovation)
Diversified Ltd Egham (International Trade)
Smith Institute Camberley (International Trade)
Tenscare Ltd Epsom (International Trade)
2020
Frenchic Furniture Paint by Vintiquities Limited, Camberley (Innovation)
Overview Limited, Woking (Innovation)
Rentokil Initial plc, Camberley (Innovation)
Synchro Arts Limited, Epsom (Innovation)
Synchro Arts Limited, Epsom (International)
Vision Engineering, Limited, Send (Innovation)


---
2019
MR Solutions Group Limited (formerly MR Solutions Limited, Guildford (Innovation)
Stanhope-Seta Limited, Chertsey (Innovation)
AMT Marketing Limited, Guildford (International Trade)
KIRK Process Solutions Limited, Walton-on-Thames (International Trade)
PrimeVigilance Limited, Guildford (International Trade)
Semmco Limited, Woking (International Trade)
Specialist Insight Limited, Reigate (International Trade)
Systems Interface Limited, Cranleigh (International Trade)


---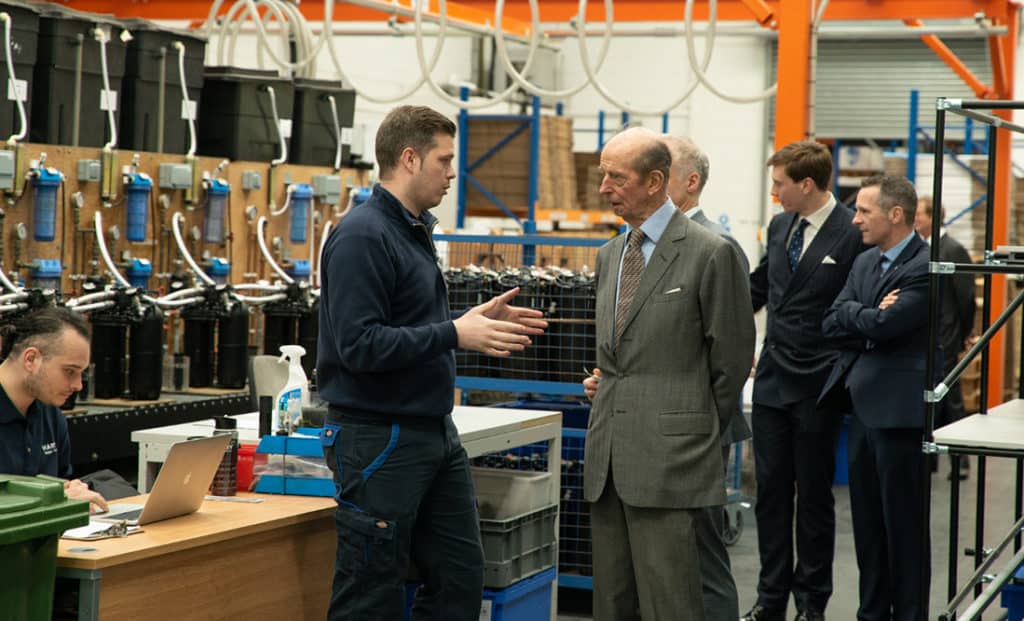 2018
Harvey Water Softeners Limited, Woking (Innovation)
Opus 2 International, Esher (Innovation )
NCMT Limited, Thames Ditton (International Trade)
The Company of Animals Limited, Chertsey (International Trade)
Tiffany Rose Limited, Chessington (International Trade)
Zone3 Limited, Merrow (International Trade)


---
2017
IDT Systems Limited, Dippenhall (International Trade)
Mark Roberts Motion Control Limited, Blindley Heath (International Trade)
MR Solutions Group Limited, Guildford (International Trade)
Rentokil Pest Control, Camberley (International Trade)


---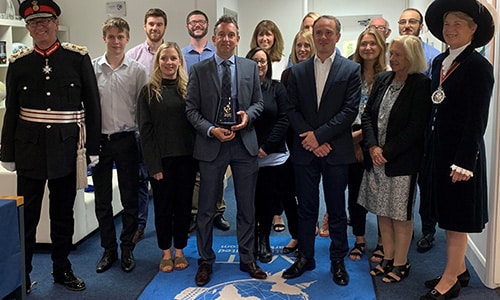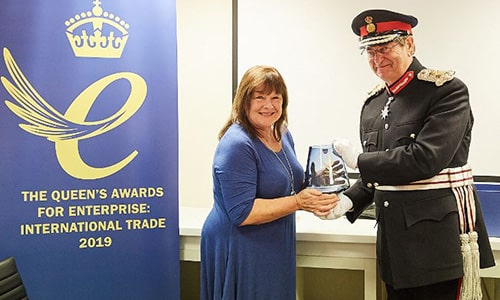 2016
Benchmark Geophysical Consulting Limited, Farnham (International Trade)
Cara Technology Limited, Leatherhead (International Trade)
CGC Technology Limited, Farnham (International Trade)
MR Solutions Limited, Guildford (Innovation Award)
Scuderia Car Parts Limited, Egham (International Trade)
Sesame Access Sysem Limited, Byfleet (Innovation Award)
Solventis Limited, Shere (International Trade)
Vocality International Limited, Shackleford
(International Trade)
Wates Group, Leatherhead (Sustainable Development)


---
2015
Hallmarq Veterinary Imaging Limited, Merrow, Guildford
(Innovation Award and International Trade)


---
2014
Stanhope-Seta Limited, Chertsey (Innovation Award)
Gold-i Ltd, Guildford (Innovation Award)
PrimeVigilance Limited, Guildford (International Trade)
The Berkeley Group Holdings Plc, Cobham
(Sustainable Development)


---
2013
Exploration Partners International Limited, Cobham (International Trade)
G3 Baxi Partnership Limited, Dorking (International Trade)
Hewson Consulting Engineers Limited (International Trade)
McLaren Electronic Systems Limited, Woking
(International Trade)


---
2012
Big Yellow Group PLC, Bagshot (Sustainable Development)
G3 Baxi Partnership Limited, Dorking (International Trade)
Stanhope-Seta Ltd, Chertsey (International Trade)
Transec (UK) Ltd, North Holmwood (International Trade)


---
2011
ID Business Solutions Ltd, Guildford (International Trade)
ZED Tunnel Guidance Ltd, Walton on Thames
(International Trade)
Trident Sensors Ltd, Cranleigh (Innovation)
Road Pals trading as easit Network, North Holmwood (Sustainable Development)
Wates Group, Leatherhead (Sustainable Development)