HM Lord-Lieutenant of Surrey Michael More-Molyneux has lived in the county of Surrey all his life. Loseley Park has been the residence of the More-Molyneux family for over five centuries.
Michael and his wife Sarah moved out of Loseley House in 2017, when their eldest son Alexander and his wife Sophia took over the Elizabethan manor house and the running of the estate.
Over the years Michael More-Molyneux has built links with many organisations and businesses in Surrey. Since his appointment as Lord-Lieutenant in 2015 he has become involved with an increasing number of charities and many good causes across the county. In 2021, he considers this a very important part of his role.


I am committed to encouraging and supporting the voluntary, charitable and faith sectors, benevolent organisations and the industrial, business and social life of our county. The support that I continue to receive from communities and individuals across Surrey has been inspirational and energising and I relish developing my role.

Michael More-Molyneux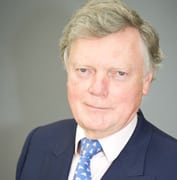 The Vice Lord-Lieutenant
Sir Stephen Lamport was appointed Vice Lord-Lieutenant of Surrey on 8th February, 2020.
 
Sir Stephen was the Receiver General of Westminster Abbey from 2008 to 2018, and previously a Group Director of the Royal Bank of Scotland for five years.
 
He joined the Foreign & Commonwealth Office from Cambridge University in 1974 and served at the UK Mission to the United Nations, and at the British embassies in Tehran and Rome. At the Foreign Office in Whitehall he was Private Secretary successively to Douglas Hurd and Malcolm Rifkind as Ministers of State.
 
He spent ten years in the service of the Royal Household. He was appointed Deputy Private Secretary to The Prince of Wales in January 1993, then Private Secretary and Treasurer from 1996 to 2002.
  
Sir Stephen is a Senior Adviser at Sanctuary Counsel. He is Vice-President of the Community Foundation for Surrey; Chairman of Trustees of Painshill Park; a member of the Court of the St Katharine Foundation; and Chairman of the British Red Cross UK Solidarity Fund Committee. He is the Deputy High Bailiff of Westminster Abbey. He co-authored with Douglas Hurd a political novel, 'The Palace of Enchantments'.
Sir Stephen has had a home in Surrey since 1981. He is married with three children. He was appointed CVO in 1999, KCVO in 2002 and GCVO in 2018. He has been a Deputy Lieutenant of Surrey since 2006.