11th October 2020
| Lieutenancy News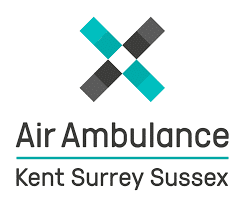 Air Ambulance Kent Surrey Sussex wins national award
Air Ambulance Kent Surrey Sussex (KSS) has won the magazine Charity Times' 2020 Charity of the Year Award (income over £10 million), which was open to UK national and regional charities and not-for-profit organisations. The awards – there are 25 categories in all – celebrate the best standards of leadership and professionalism amongst charities and not-for-profit organisations. Finalists in KSS's category included Asthma UK and the British Lung Foundation, Blood Cancer UK and Elton John AIDS Foundation.
This Charity of the Year Award recognises KSS's significant achievements over the past year – notably becoming the first UK Air Ambulance service to receive an outstanding CQC rating across all five areas of inspection, and maintaining its pre-hospital life-saving emergency medical service 24/7 throughout the Coronavirus pandemic, whilst supporting its NHS partners with the transfer of critically ill Coronavirus patients across its regions. The judges said it excelled across all its delivery areas.
The KSS CEO, David Welch, said: "What an amazing achievement in our 30th year to have been named Charity of the Year by the charity industry's leading publication. Every member of the KSS team has played a significant role in our success and I am immensely proud of this accolade."
Helen Bowcock, Chair of Trustees added: "This award acknowledges the dedication and commitment of our amazing crews who have continued to deliver their life-saving service, without interruption, throughout the Covid crisis."
Operating out of Redhill Aerodrome, KSS operates 24/7 and provides world-leading pre-hospital emergency care and plays an important role in supporting the NHS and wider health services. Its crews of pilots, doctors and paramedics fly over 2,500 missions a year. KSS has recently appointed Ian Howick, Chair of Heathrow AOC and former Director at British Airways, as Executive Director of Corporate Services. He brings a wealth of senior expertise to KSS in safety management, frontline customer operations, engineering, finance, treasury and employee relations.