When representing HM The King and on certain other official occasions, the Lord-Lieutenant of Surrey wears a military-style navy blue uniform.
The jacket and trousers both have a scarlet trim. This is repeated on the peak cap, which carries a cap badge depicting the Tudor Rose. Detailing, such as buttons and shoulder boards, are silver rather than gold. There is also a sword with a steel scabbard. No Badge of Office exists for a male Lord-Lieutenant to wear with civilian clothes on other occasions.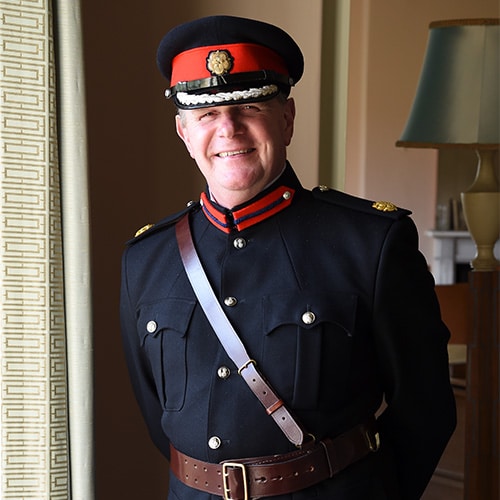 The Vice Lord-Lieutenant and male Representative Deputy Lieutenants wear a similar uniform (left); however, those with former military service – holding Naval, Army or Air Force rank of Colonel (or equivalent) or above – may opt to wear the uniform of their service.
There is now a uniform for female Deputy Lieutenants, although those who have previously served in one of the Services may wear the uniform of their rank and service in which they last served.
---
The Lieutenancy badge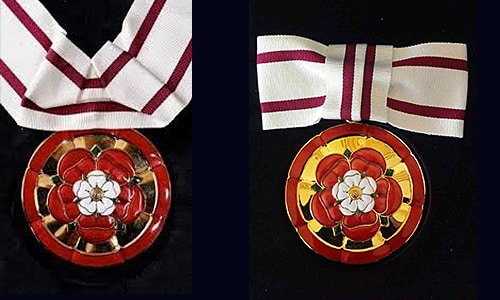 Deputy Lieutenants wear this badge when formally representing the Lord-Lieutenant.
The enamelled badge depicts the Tudor rose surmounted by a crown, suspended on a ribbon or court bow of the Lieutenancy colours, white and magenta.

---
Protocol and precedence
The Lord-Lieutenant is His Majesty The King's representative in the county. Issues relating to protocol and precedence can be clarified by consultation with the Deputy Clerk to the Lieutenancy (caroline.breckell@surreycc.gov.uk) or 020 8541 9127.


How to address the Lord-Lieutenant
In writing: Mr Michael More-Molyneux, His Majesty's Lord-Lieutenant of Surrey.
Salutation: Dear Lord-Lieutenant, or Dear Mr More-Molyneux.
In a speech preamble: My Lord-Lieutenant.
Conversation (on formal occasions): Lord-Lieutenant, or Mr More-Molyneux.