27th July 2022
| Lieutenancy News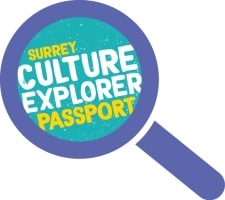 Become a culture explorer and collect a culture passport from your library
Become a Surrey Culture Explorer and go on exciting adventures with a chance to win amazing prizes! The Surrey Culture Explorer Passport is a free and fun way to explore culture and libraries in Surrey.
So, dust off your favourite explorer's hat and get ready to take on our challenges. The passport runs from summer to autumn and is aimed at explorers aged 4 to 11.
Start your adventure by picking up your passport from your local Surrey library from Saturday 16 July. Complete at least 10 challenges by Saturday 29 October to become a fully certified Surrey Culture Explorer and for your chance to win prizes.