20th July 2021
| News in your area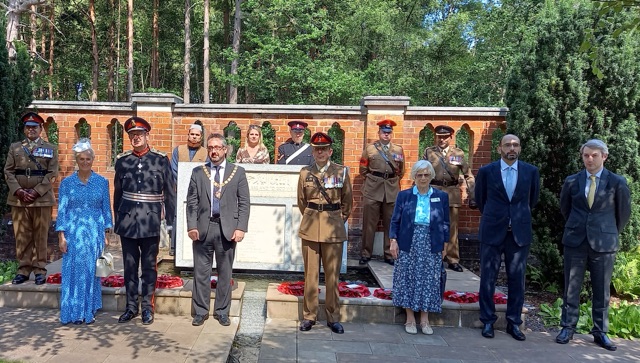 Commemoration Service at the Muslim Burial Ground Peace Garden
The Lord-Lieutenant along with Mayor of Woking, Councillor Liam Lyons, attended the Muslim Burial Ground Peace Garden in Woking on Sunday 18th July to lay a wreath in Remembrance of 27 soldiers who were killed in action.
The Woking Muslim Burial Ground was completed in 1917. The site at Horsell Common was the final resting place of 19 Muslim Soldiers from the Great War, and a further eight soldiers casualties from WWII.
In 1969 the bodies were moved to Brookwood Military Cemetery and after a period of disrepair and neglect the site was restored to its original Indo-Saracenic architectural splendour. As a mark of respect in commemoration of the soldiers once buried here, a Peace Garden was installed and formally opened by HRH the Earl of Wessex in 2015.
The Muslim Graves at the CWGC Brookwood Military Cemetery
The Muslim Graves are now looked after by the Commonwealth War Graves Commission.
They can be visited every day. You'll find them alongside the Main Commonwealth Section.
https://www.cwgc.org/visit-us/find-cemeteries-memorials/cemetery-details/44400/brookwood-military-cemetery/