4th May 2023
| Lieutenancy News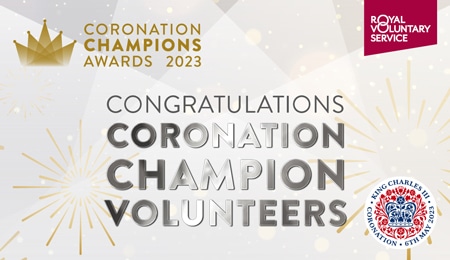 Coronation Champions in Surrey
The Lord -Lieutenant Michael More-Molyneux is delighted that 9 volunteers from across Surrey have been recognised for their work and have been named as Coronation Champions. This is a wonderful start to our celebrations for His Majesty's Coronation.
Sally Field – Animal welfare
RSPCA
Sally has been a dog walker for the RSPCA for over 40 years, walking thousands of our rescue dogs. Sally has attended nearly all the fundraising events over the past 30 years to help raise funds for the centre. She has also adopted a number of dogs from the centre.
At the age of 103 Sally is still volunteering with them after 43 years and her dedication to them and the dogs that they care for is an inspiration for all of us.
Lee Roake – Supporting young people and children
Sensory Services by Sight for Surrey
Lee has been a Young Ambassador for our blind and vision impaired (VI) young people's group and attends numerous events looking after blind and vision impaired children ensuring they feel welcome and comfortable. As well as being blind, Lee has additional learning needs but that has not stopped him in helping others.
Anthony Gauvain – Health and care
PTSD Resolution
Over the last five years under Tony's leadership, the charity has effectively treated over 2000 veterans and their families.
Rod Pluthero – Health and care
Cancer Research UK
In 2021 he became a Cancer Research UK (CRUK) fundraiser and Campaigns Ambassador. Sadly, In 2023, following his cancer reoccurring, Rod died. His passing renewed our determination to campaign for the policy change so critical to improving cancer survival.
Joe Brocking – Health and care
St Catherine's Hospice – Hospice Care in West Sussex & East Surrey
For over nine years Joe has made an incredible impact at St Catherine's Hospice, in Crawley, helping out with many of our fundraising events alongside his main role as a volunteer patient driver. During the pandemic, Joe delivered leaflets and volunteered four days every week in our Redhill charity shop.
Mary Zoeller Supporting young people and children
Girlguiding UK (main one)
Epsom and Ewell Community Fund
South East Rivers Trust
Epsom and Ewell Borough Council Countryside Management Team
KEET (Keep Epsom and Ewell Tidy)
Mary is Epsom Division Commissioner (Girlguiding UK) looking after 28 units currently 535 girls and 137 volunteers. Her role is to create positive change that improves the opportunities for girls and young women in the local community and provide support and guidance to our volunteers.
Mary has built great relationships with many local organisations and provided exciting opportunities for the girls, not only within their units but as part of the wider Girlguiding community.
Heather Fowler – Supporting young people and children
Girlguiding UK – 2nd Raynes Park (St saviour) Guides (Leader)
Duke of Edinburgh Award Scheme
The Scout Association – 4th Worcester Park scouts (Silver Troop) Unit Helper for camps
Guide Leader organised weekly meetings, adventurous activities, skiing, kayaking etc, trips, camps including International to Holland, service to community. Teaches first aid, survival, backwoods cooking, navigation, preserving environment. Restored the World War I War Memorial. Organises fairs for local community and fundraising for Church. DofE leader, Camp adviser and mentor. She inspires confidence in her leader with learning difficulties to run and lead activities. Heather kept the unit from closing by finding an additional new leader.
Jayden Bookout – Community
Royal Holloway Volunteering
Englefield Green Brownies
Talking Tree Community Cafe
The Hub in Englefield Green
Oasis Childcare Ltd
Berkshire Women's Aid
Egham Town Team
Head2Head Sensory Theatre
Browns Community interest company
Englefield Green Village Centre
Jayden Bookout is a Student Leader at Royal Holloway University of London. While she has been an active volunteer with the college for the last four years, in 2022 Jayden founded the Homeless Project, an initiative that seeks to bridge the gap between students and local charities that support homeless people.
Maureen Austin – Animal welfare
RSPCA
Maureen had been a regular volunteer in running of the cattery, She has also been one of our most successful foster homes dedicating a room just to foster cats. Taking terrified cats to rebuild their confidence and hand rearing numerous kittens from a day old.
These short references to these extraordinary volunteers does not do justice to their achievements, it does little more than give you a flavour of what they have contributed.