20th August 2020
| News in your area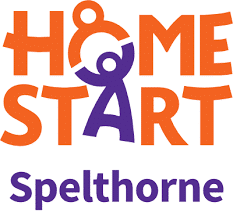 Home-Start Spelthorne
Home-Start Spelthorne, like all organisations, have been required to make changes and adapt to new ways of working in order to keep services running.  We at Home-Start Spelthorne are no different and have followed Government and Home-Start UK guidance to ensure the safety and well-being of staff, volunteers and the families they are supporting.
The Home-Start Spelthorne staff are working from home, but they continue to support and supervise forty-two highly trained volunteers. Volunteers have received regular updates on activities and resources they can refer parents and children to, so families remain connected within the community, albeit via virtual methods.
Home-Start Spelthorne aims to provide parents with emotional support and practical help when they need them the most, and so being able to provide alternative methods of support during the pandemic has been crucial as families face new challenges, and so their volunteers and staff have continued to stay connected to families through weekly phone/video calls.  As the lockdown restrictions have relaxed, it was agreed that some volunteers would be allowed to meet their Home-Start families in an outside space, providing certain conditions were agreed and both parties consented.  This has been a positive step for some parents in helping to improve their mental wellbeing, particularly for those who have been completely isolated with no local friends or family.  Some families and volunteers have chosen to continue just with phone support as they are finding that extremely beneficial and sufficient support for the time being.
Over the last few months, the HomeStart team has carried out reviews with families and they have been encouraged by the feedback.  Some families are embracing new activities whilst at home, parents have spent more quality time with their children and family relationships have improved.  However, for others the challenges have been difficult, looking after children with special needs without the usual support, managing the children whilst working at home, home-schooling young children and not having access to extended family for support and childcare.
The Home-Start Spelthorne team has been talking to families about their needs and have made several referrals to local food banks.  They have also sought funding for other items, including a bed, a washing machine, food, books and a laptop.  They have arranged to have a family's garden cleared so the children could have more space, not only to play but to have somewhere to sit and do school work and eat together.
During these difficult times all their annual core fundraising events have been cancelled.  They rely heavily on these events and it will have a real impact on their future funding; but they continue to look for alternative fundraising opportunities and know that there will be difficult financial times ahead for us all.
They have a wonderful video posted on Facebook by the mother of one of their families, whose partner is a key worker. https://www.facebook.com/homestartspelthorne/videos/173908300476538