2nd December 2020
| Covid-19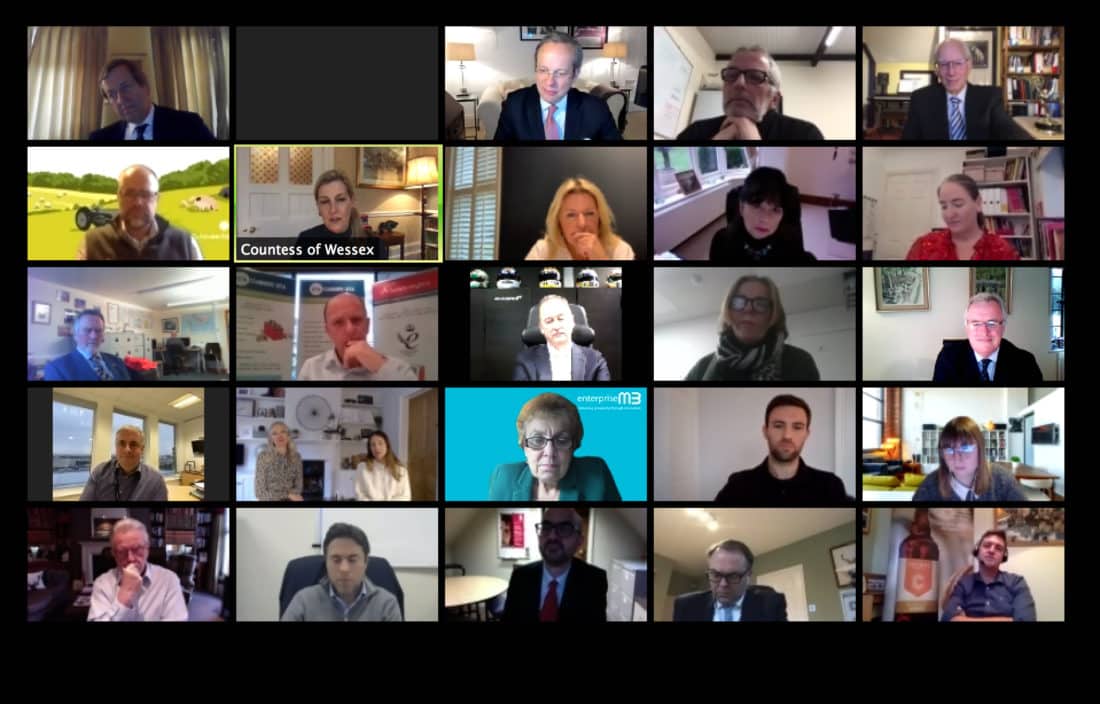 HRH The Countess of Wessex joins Surrey business leaders to discuss Covid response at a Lieutenancy digital event.
Her Royal Highness The Countess of Wessex joined more than 70 Surrey business leaders virtually on Wednesday 2nd December to discuss the impact of COVID-19 on the county's businesses.
Hosted by the Surrey Lieutenancy, more than 20 speakers provided contributory insights across seven interventions: assessing the Surrey business scene, women in business, the next generation of entrepreneurs, tourism and hospitality, food and drink, tech and innovation, and the Queen's Award for Enterprise.
Speaking at the event, HRH The Countess of Wessex, commented: "Many of your organisations are pebbles in the pond, and the repercussions of challenges on your own businesses will be felt widely, by so many that you work with. But what is really exciting, is to hear that there remains positivity about the future. If business can show confidence, then that in turn breeds confidence, opportunity and optimism."
The common theme that emerged throughout the event was one of resilience. The pandemic has provided obstacles that many could not have foreseen – from an unprecedented drop in travel rates, the closure of hospitality venues, and the overnight loss of wholesale business sales – as well as the increased pressure on health and social care services. Despite these challenges, the message presented here was overwhelmingly encouraging.
The entrepreneurs and leaders who spoke talked about their determination to overcome the challenges of today, and the creativity they are deploying to become better businesses for tomorrow.
Summarising the discussion, HM Lord-Lieutenant of Surrey, Michael More-Molyneux said: "You could really feel both the energy and the resilience of each and every business. We heard from 23 speakers in the space of an hour, each of whom could have held a session of their own. Every contributor provided fascinating insight and today's interventions have given us all a lot to think about – particularly around education for young people, jobs of the future and mental health.
"We do hope and intend to return to these crucial issues in the future, with this first digital event providing a brilliant platform for future discussions and great optimism for entrepreneurship in Surrey, even in these challenging times."