26th November 2020
| Covid-19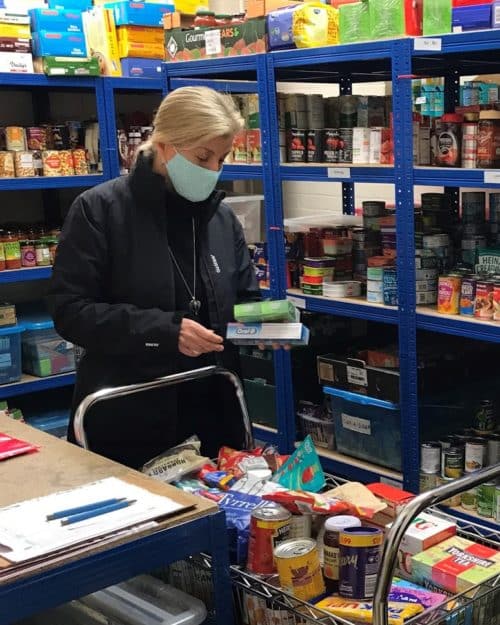 HRH The Countess of Wessex visits Manna Food Bank in Staines upon Thames
Volunteers at the Manna Food Bank in Staines upon Thames last week welcomed The Countess of Wessex who joined the team at the Food Bank headquarters to lend a helping hand. Her Royal Highness was met by Elizabeth Wood-Dow OBE, Chair of Trustees, accompanied by Murray Ransom, Chairman of the Management Committee.
The Countess helped to unpack donations of food, washing and cleaning products, which had been brought in from drop off donation points in local shops, which were set up last March just before lockdown began. Her Royal Highness helped with weighing donations, checking sell-by dates, and then packed food parcels to be delivered to vulnerable local people around the Borough of Spelthorne that afternoon.
The Countess spoke to several of the volunteers as they worked. They were happy to tell her of their experiences during lockdown, as the demand for urgent and emergency food rose week by week during the pandemic. They were delivering up to 50 food parcels a week in April, May and June, when anxiety and therefore demand was at its highest.
After the visit, The Countess thanked the volunteers and said she had been pleased to witness how local communities right across Surrey have pulled together to support each other during the pandemic.
"We were all delighted that The Countess of Wessex volunteered with us at the Manna Food Bank, and thrilled at the amount of interest she showed in our work," said Mrs Wood-Dow, who has been a volunteer at the Food Bank since it began." The visit was a real boost to morale for all of us who have been putting in long hours since the first lockdown last March, and we thanked The Countess for mucking in and helping us with our task, "she added.