6th July 2023
| News in your area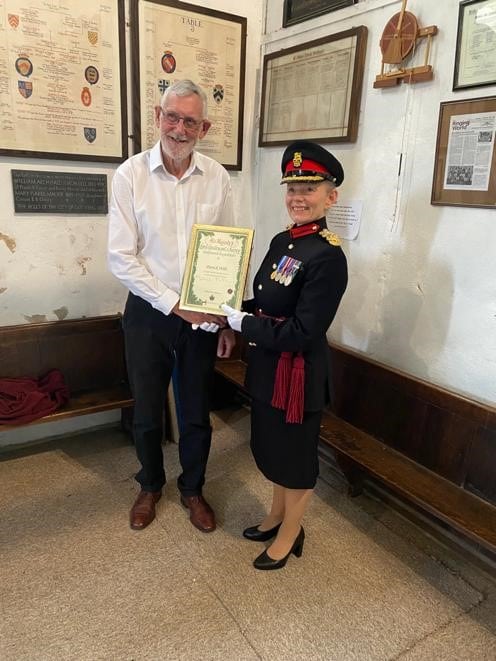 Lieutenancy Appreciation Award
On Saturday 1st July, Deputy Lieutenant Brigadier Ingrid Rolland VR, presented Patrick Wills with a Lieutenancy Appreciation Award in Bletchingley with a band ringing a quarter peal, Grandsire Triples, to acknowledge the event.
Patrick first rang a tower bell at Chichester Cathedral on 22nd September 1963, under the supervision of Philip Stevens. He practised there and at Felpham (under Bob Wake) quickly learning to handle a bell and ringing his first quarter peal just 4 months later on 12 January 1964. However, it was not until 7 March 1965 that he rang his first quarter peal on an inside bell. He scored his first peal on 15 January 1966, ringing Stedman, Plain Bob and Grandsire at Felpham.
Although for a short time a keen peal ringer (ringing 31 peals in 1970), Patrick's current total is just 232, with only one as conductor. His hundredth peal was at Chagford, Devon, in 1973 and his two-hundredth at Arundel in 1990. The peals have been rung in 96 different towers, with Thakeham the most visited (17 peals). Patrick has rung nine peals at Chichester Cathedral, ringing the tenor six times, and 91 of his peals have been with Philip Stevens.
"Tower grabbing", too, was one of Patrick's earlier interests. He rang at 193 new towers in 1976, and at 30 in just one day in 1974. During a week's tour to Ireland in 1980 he rang in 28 of the 30 towers then ringable. His current total stands at 1763 towers.
Over the years Patrick held many posts in the Sussex Association. He has been Secretary and Ringing Master of the Western Division, General Secretary of the Association and was Master from 1986 to 1989, also representing the Association on the Central Council of Church Bell Ringers from 1980 to 1986. In addition, Patrick was a member of the committee of the Sussex Churches Bell Restoration Fund for several years carrying out inspections and producing reports on over 20 towers. He has also served as Ringing Master at Chichester Cathedral and at Pagham.
Patrick moved to Surrey in 1991 and in 1998, he joined the band at Coulsdon where he was Tower Captain for 12 years. He served as Master of the Surrey Association from 2012 to 2015 and is currently the Secretary (and Webmaster) of the East Grinstead and District Guild. Training new ringers and assisting at other towers' practice nights has been part of Patrick's life for many years, and he has previously helped to start completely new bands at Pagham, Milland and Walberton, also regularly assisting with practices at Midhurst and Stedham. For about the past five years he has helped to run monthly "drop in" practices at Bletchingley and he continues to train new ringers at Bletchingley and Outwood. This requires patience, and an ability to deal with mishaps (which are potentially quite dangerous) in a calm, measured manner but he selflessly gives hours of his time excelling as an instructor.
Since 2020, Patrick and his wife Kate have split their time between their homes at Caterham and at Westward Ho! in North Devon. They ring regularly at two towers for Sunday services – Appledore and Bideford, but also assist at a weekly method-ringing practice at Braunton.