24th July 2023
| News in your area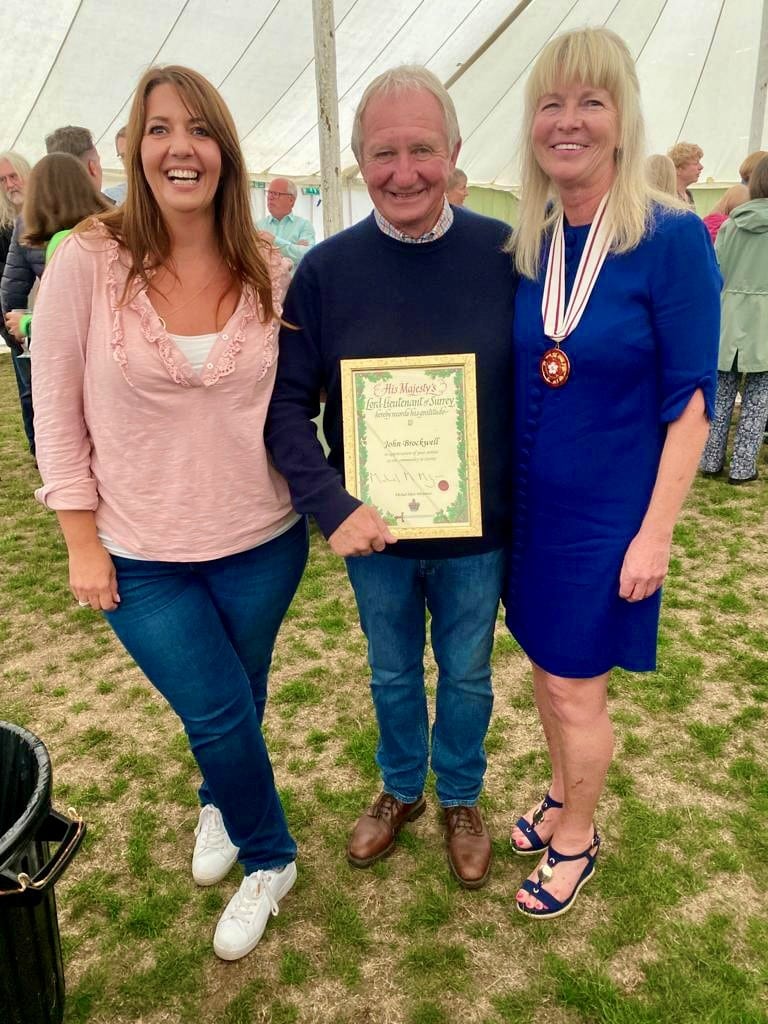 Lieutenancy Appreciation Award
On Friday, 14th of July, Deputy Lieutenant Jane Macaulay presented John Brockwell ( pictured receiving the award alongside daughter Verity) with a Lieutenancy Appreciation Award for his exceptional service to the local community of Albury Parish.
John, known to all as JB, has lived in the area for the last 40 years and the work he has carried out for the benefit of the Parish throughout his time is impressive.
JB joined the parish council in 2003 and became chairman in 2011 until his retirement, earlier this year, after 20 years of service. He was always fully involved in all issues, and he could often be found walking the highways and byways to ensure they were being maintained, attending planning meetings to represent the parishes views on local applications, restoring village allotments in Albury, achieving traffic calming measures.
JB showed great vision regarding the importance of high-speed broadband within Surrey Hills. Both his foresight and enthusiasm for the project was instrumental in achieving funding, and promoting awareness, for Broadband for Surrey Hills (B4SH). This has ensured that the village of Albury, now being followed by other villages in the parish, has access to high-speed broadband.
John was also a supporter of the village café set up, with support from the local church, in 2012. It operated weekly with volunteers serving coffee and home-made cake. This was an especially important hub for local residents who needed some company and support. John regularly attended,
offering friendship as well as practical help
John has had an extremely active involvement in Albury Produce Fair for the last 30 years. He has been an active member of the show committee, giving up an entire week of his time ahead of the event, in addition to the large volume of work throughout the year planning and making bookings for the show. It also involves him being present during the weekend of the show as well as in the week following ensuring everything has been left exactly the way it was found. Some 10 years ago, it was suggested that the show should be followed on the Sunday with a music festival. John became equally involved in that and it has proved a huge success with visitors coming from far and wide. Both these events raise money for local charities.
Deputy Lieutenant, Jane Macaulay, said that it would be difficult to name a more widely known or better loved individual who is valued and appreciated by so many within the parish and she was especially pleased to be able to present him with his award in the main marquee the night before the Annual Produce Show surrounded by over 100 friends and family.