17th May 2023
| News in your area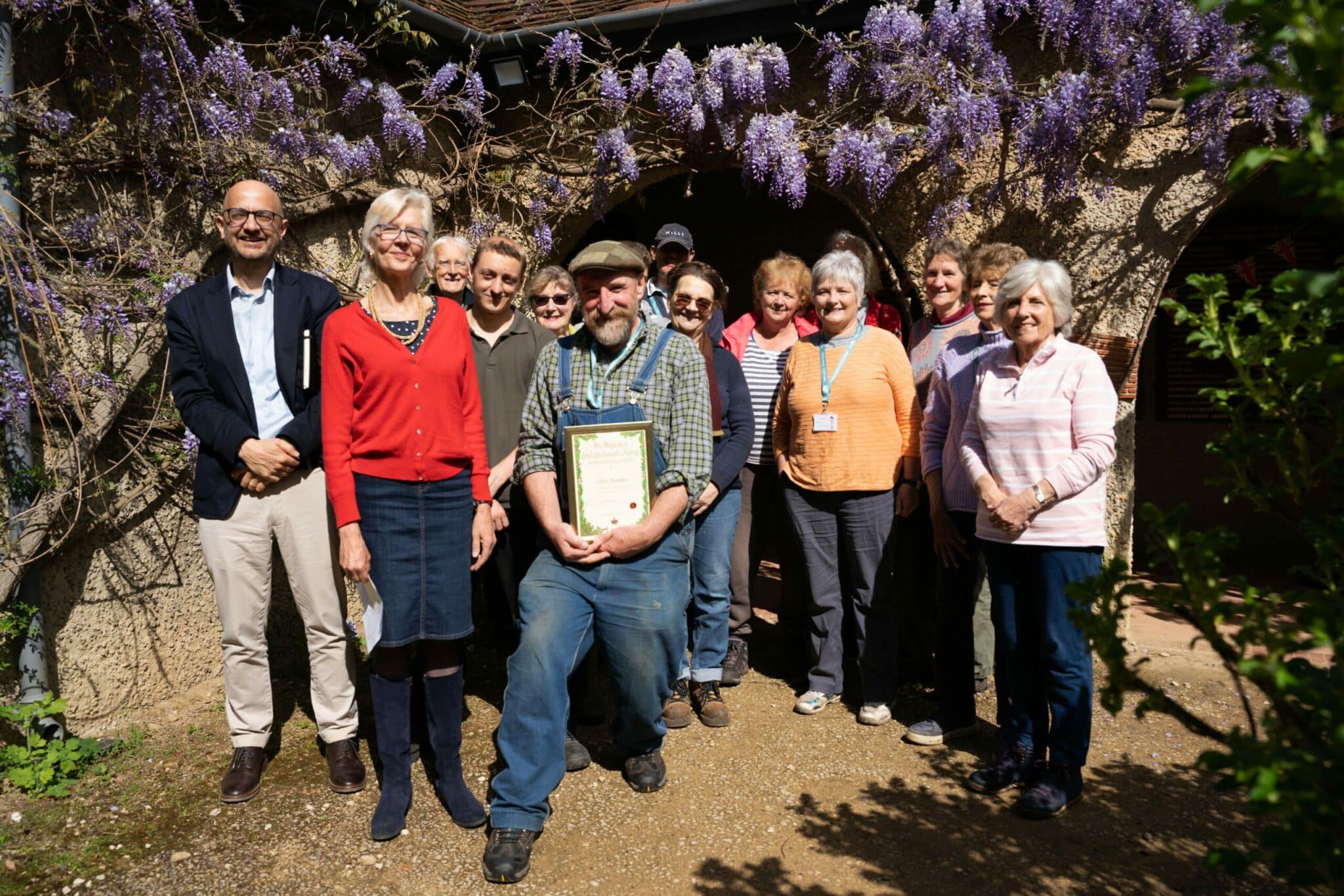 Lieutenancy Appreciation Award presentations
On Wednesday 10th May Deputy Lieutenant Perdita Hunt OBE presented Lieutenancy Appreciation to Joanna Wilks and Chris Sharples at Watts Gallery in Compton.
Joanna (Jo) Wilks, Head of Trading, started at Watts Gallery Trust almost nine years ago as Commercial Manager In this time she has developed the commercial aspect of Watts Gallery Artists' Village – opening a commercial gallery, extending the shop, refurbishing the tea shop, and developing the on-line income. The Watts Shop is the envy of museums throughout the UK The Watts Gallery Trust's trading activities, are vitally important both to the community in and around Compton and further afield, and in provide vital support to Watts Gallery Trust's charitable mission, as all profits from the trading activities support the Trust's charitable mission. Jo overseas the Tea Shop, Shop, Contemporary Gallery, Venue Hire and the admissions and front of house team, ensuring that every visitor to Watts Gallery gets a very warm Watts welcome. The Tea Shop provides a much needed community hub and has trained an endless number of young people. Watts Gallery seeks to support and employ young people seeking work experience, and provides training and mentoring to develop their skills During her time the trading company has thrived, growing its vibrant programme of contemporary selling exhibitions that support local and national artists, the shop has considerably increased in size thanks to a new book and print room and the tea shop has been beautifully refurbished, extending to an outdoor offer. The shop and tea shop in particular play a vital role in local community place-making.
In the past three years, trading has been particularly tough, and recognition of Jo's unstinting commitment and work, would be valid and worthwhile.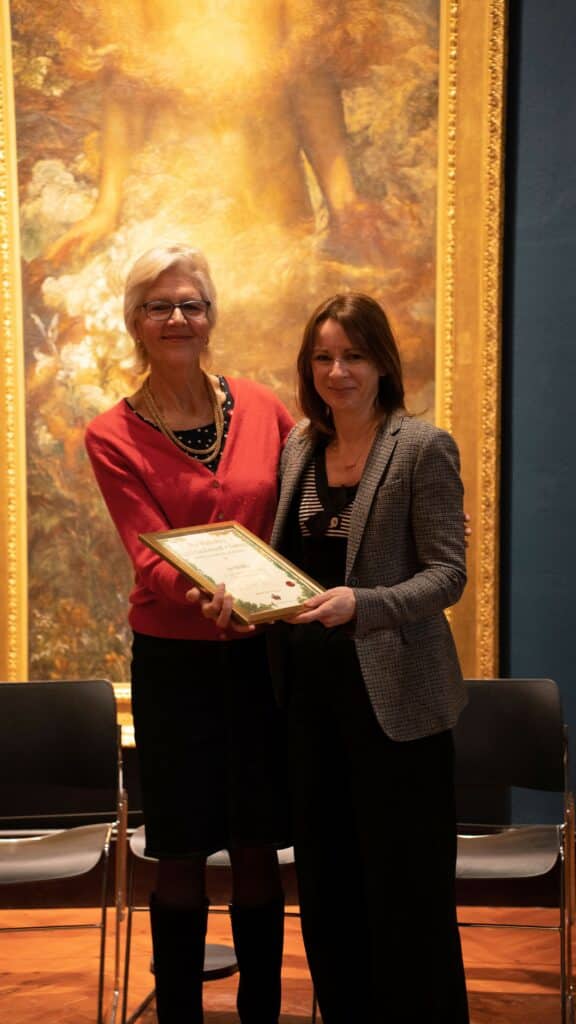 Christopher (Chris) Sharples has worked as Verey Head Gardener at Watts Gallery Trust for a little over two years, during which time he has transformed the gardens and grounds, with the help of the Estates team – particularly Groundsman Steven Ford and Estate Assistant Bradley Lewis as well as a fantastic team of volunteer gardeners, who meet on Wednesdays, with additional support on other days too.
Chris Sharples is described as a Pied Piper in attracting volunteers to support the gardening and landscape projects. Many visitors come to Compton to enjoy the flower beds, the woodland and the care which is taken in the hedging, fences and vistas. Every day there are plants in containers by the tea shop describing the plant and its origins. Chris makes a point of recycling plants, bulbs, materials in all that he does. He is dedicated to the restoration of Watts Chapel. With volunteers, Chris has tended the graveyard with love. As well as his contribution to the Watts Gallery Estate, Chris regularly decorates the telephone box on Compton green(as seen in this weekend's Times & BBC coronation coverage) to share humour, celebration and interest with passers by. It has become a main feature which adds to Compton's identity. Formerly, Chris was responsible for commissioning and erecting the Village sign which reflects the Mary Watts heritage of ceramic design and her responsibility for the Watts Chapel. Chris lives in Compton, served on the Parish Council and helps in all kinds of village events, including the restoration of Mary Watts' war memorial in the village.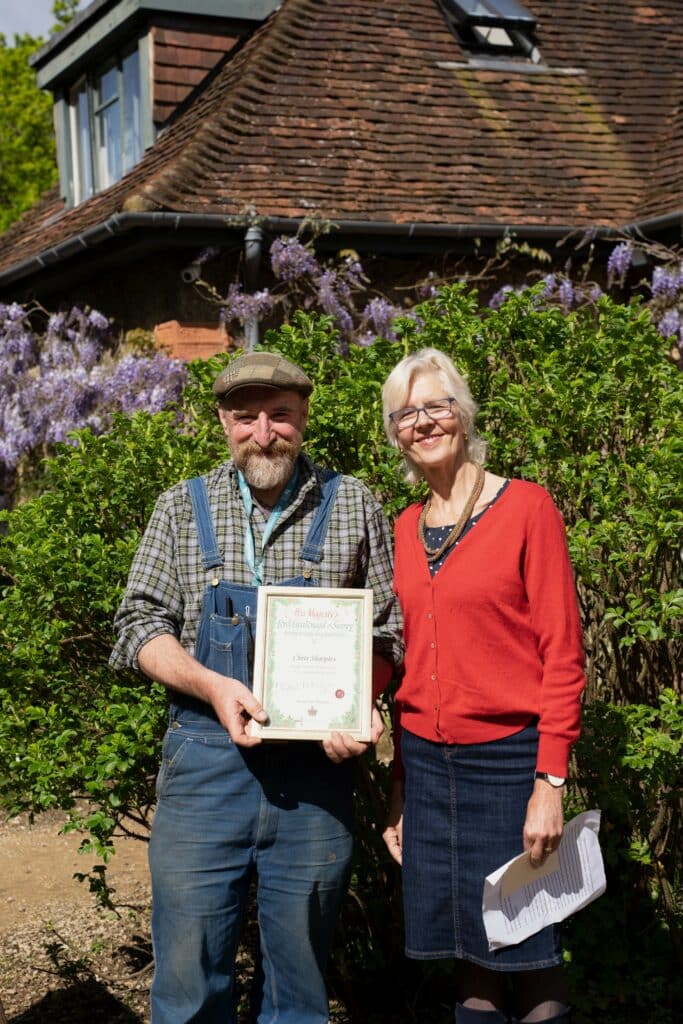 Both Jo and Chris play central roles in the life of Watts Gallery Trust and ensuring a thriving community in Compton.