10th May 2023
| News in your area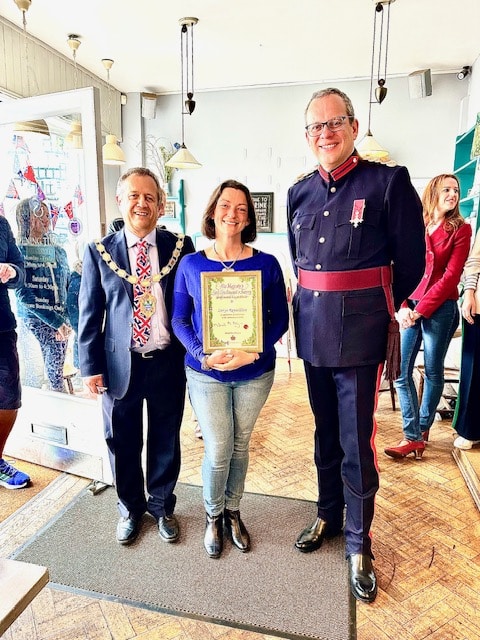 Lieutenancy Appreciation Award presentations
On Saturday 6th May, Deputy Lieutenant, Michael Hayman MBE presented three Surrey residents with a Lieutenancy Appreciation Award.
The first presentation was to Lerryn Reynoldson for her service to the local community in Ewell as an incredible volunteer.
Lerryn started working as a volunteer for Rhyme Time at Bourne Hall library in January 2018. Rhyme time is a lovely space for pre-schoolers to sing and learn through rhymes. But it also provides an incredibly supporting space for mums to meet other mums and provides a free activity to attend, and Lerryn is a key part of that.
In turn, Lerryn is a passionate litter picker, tireless in going out and keeping Epsom and Ewell Tidy and free from litter. While that started as a a solo effort, with family members, it has evolved significantly to become something wider and more structured.
In June 2019 she created Keep Epsom and Ewell Tidy as a way of creating a community space and reach out to other people who litter pick in the area and encourage new ones. Lerryn has created a positive and proactive relationship with teams in the council to coordinate litter picks and make litter picking equipment available for free in the community. It really has made a difference.
Finally, since September 2022 she has been secretary of the Friends of Ewell Grove school, helping raise invaluable funds for the school, including the refurbishment of the outdoor provision as well as other smaller projects within the school. But her role isn't just an administrative one. She is there at every event, big or small, helping, and working tirelessly with local business for donations for the different raffles.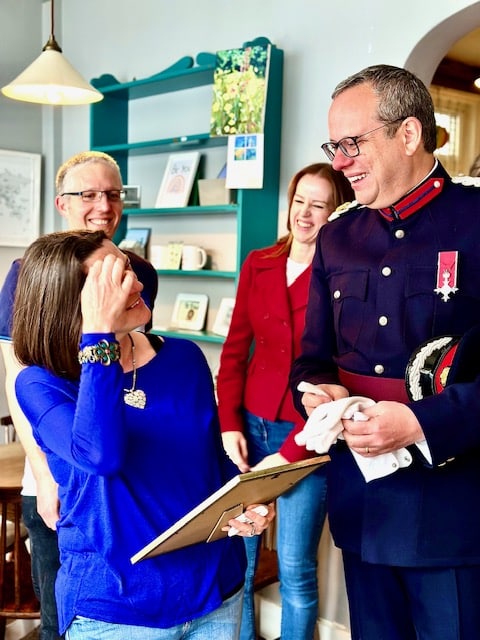 The second of the presentations were made to Headley community champions Paul and Helen Furr at the Headley Coronation party. Both Paul and Helen have been the driving force in organising both the local Platinum Jubilee and Coronation celebrations, which received significant local support.
They are both credited with reigniting get togethers for local people to reconnect the village. This community spirit is reflected by Paul has 8 years of service as a Parish councillor in Headley.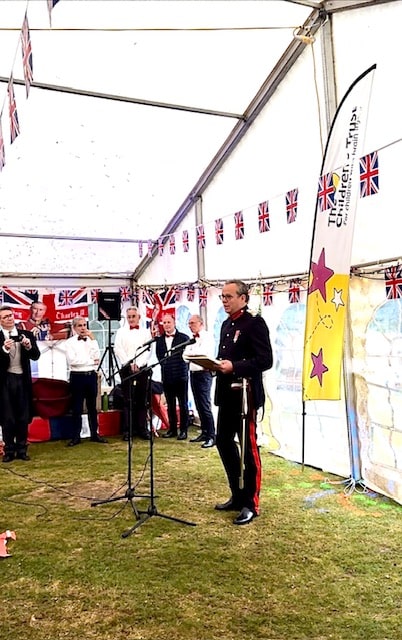 Both Paul and Helen were credited at the event as "leading by example in vision and work ethic" but both also paid tribute to the wide ranging efforts of residents from all around the village in creating such a landmark moment.
Deputy Lieutenant Michael Hayman said in presenting their award that Paul and Helen's "vision, community spirt and thoughtfulness have been recognised by this community who nominated you for this award."