12th October 2021
| Covid-19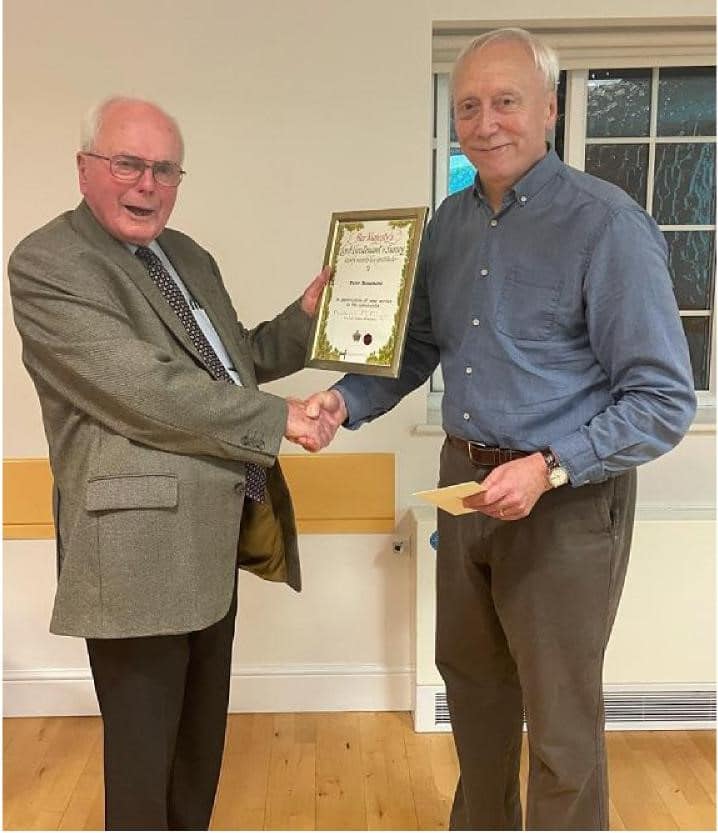 Lieutenancy Award presented to Peter Beaumont of the Samaritans, Leatherhead
On the 15th September at their Annual General Meeting, Deputy Lieutenant, David Davis presented Branch Director, Peter Beaumont, with a Surrey Lieutenancy Award for his services to the community.
A member of the branch since 2007 in various roles, Peter has led the branch as Director for the last four years.
Over the last eighteen months a major effort has been to deal with the effects of the COVID pandemic on their callers alongside a significant number of their volunteers standing down from duties to shield vulnerable family members. Rising to this challenge, the branch remained open to callers throughout the year and a achieved a growth in branch membership to 133 volunteers. The branch has responded to over 17,000 calls & emails from across the UK during the past year, as well as providing training and support to the Listener scheme at Downview Women's prison in Banstead.
Peter commented "I regard this award as recognising the community service provided by the whole branch. The efforts our volunteers put in every day in responding to callers are inspiring, and I am both proud and humbled to have been the leader of such a great team."
The Leatherhead, Epsom and Dorking Branch runs a highly rated volunteer training program and still needs more recruits to join. Volunteers are asked to contribute one three hour duty each week, and no prior qualification is required other than a desire to help others.
Samaritans have been providing emotional support to those considering suicide or suffering distress for nearly seventy years. The branch is a charity in its own right and relies on donations, particularly local corporate contributions, to fund its work. Donations or enquiries should be addressed to Leatherhead@samartitans.org and information on joining the volunteer team can be found at www.samaritans.org