14th September 2021
| News in your area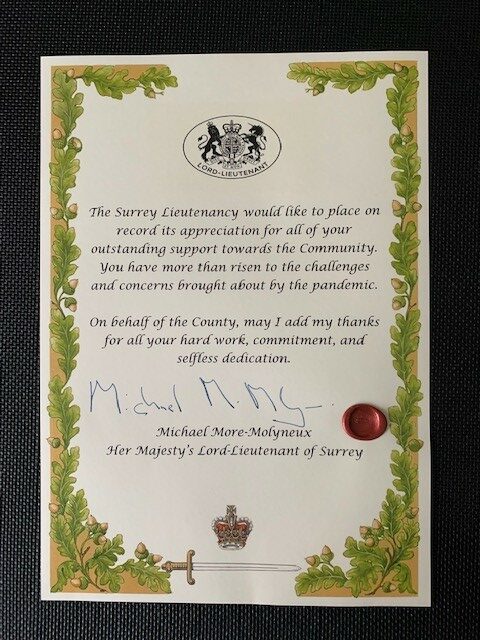 Lieutenancy Certificate of Appreciation
On Monday 13th September, the Walton Charity arranged an event at the River Barn in Walton-on-Thames, where on behalf of the Surrey Lieutenancy, Deputy Lieutenant Rob Douglas presented five charities and one company with a Lieutenancy Certificate of Appreciation. They were all really appreciative of the recognition, and in many cases, this was the first time they had seen each other face to face.
Walton Charity is a local charitable foundation, who work within the community and their local partners. They offer grants for individuals and families in Elmbridge who need financial assistance, and award grants to local charities, schools and organisations tackling poverty and inequality in Elmbridge.
Relate West Surrey, is a counselling service which operates within seven local boroughs. It is also part of the Relate National Federation, and is there to relieve those in need by reason of youth, age, ill-health, disability, financial hardship or other disadvantages. During the pandemic, they had to switch from a face-to-face service and make sure their staff were all equipped to use Zoom and that their clients were comfortable with it. They also now have a contract dealing with the mental health issues of young people, an area which has seen an increase during lockdown.
Home Start – Elmbridge is one of the UK's leading family support charities. Their ethos is to help parents build better lives and better futures for their children. Home-Start Elmbridge do this by recruiting and training local parent volunteers to offer practical and emotional support to families in their own homes. They also have dedicated Carer Support Co-ordinators who support families with illness, disability or additional needs and offer other types of support, such as a Parenthood Support Group, crisis support and counselling.
Surrey Coffee Company – When their café had to close, they switched to being a greengrocer and made food deliveries to members of the local community, many of whom were shielding and were struggling in the beginning to access other sources of food deliveries.
North West Surrey Samaritans – During the pandemic, unable to see people face to face, they had to make sure that they kept staff numbers up to run their helplines, at a time of increased demand.
Walton & Hersham Foodbank – They needed to increase the number of parcels to meet the increased demand, particularly for schoolchildren who had depended on free school meals, and at the same time many of their volunteers were shielding.