21st September 2021
| News in your area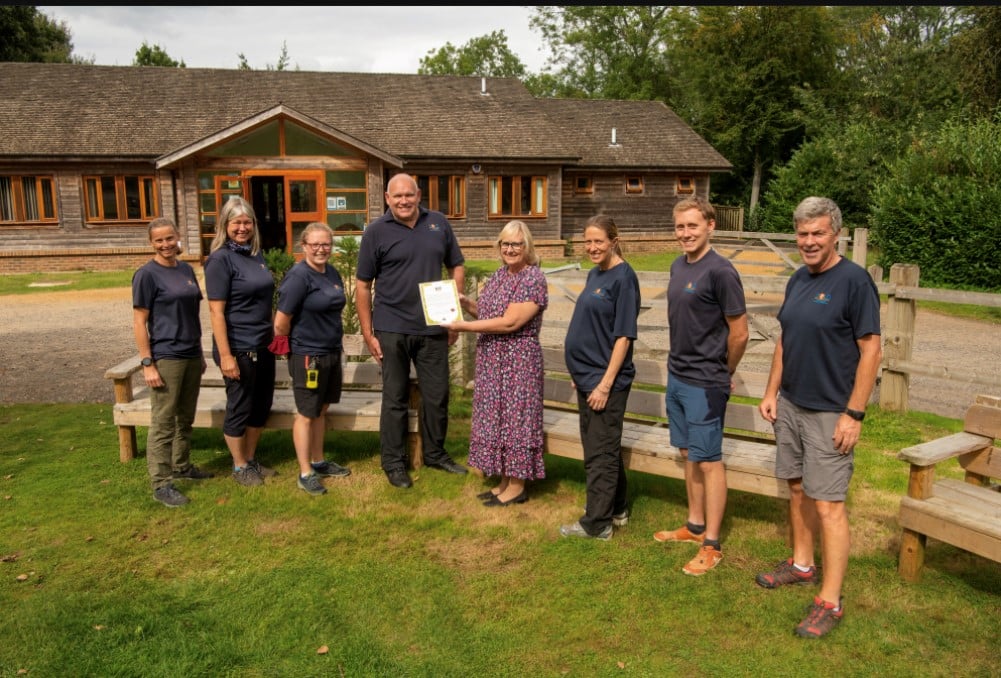 Lieutenancy Certificate of Appreciation
On behalf of the Surrey Lieutenancy, Deputy Lieutenant, Caroline Breckell MVO, presented Surrey Outdoor Learning and Development with a Lieutenancy Certificate of Appreciation.
Surrey Outdoor Learning and Development has 3 centres in High Ashurst in Dorking, Henley Fort in Guildford and Thames Young Mariners in Richmond. They also have a canal boat The Angel Blue, moored at Dapdune Wharf on the River Wey. They run bespoke, outcome driven outdoor learning residentials and day trips for schools through adventurous activities such as climbing etc, holiday activities and glamping staycations, climbing, abseiling, water sports, den building, Duke of Edinburgh awards schemes and residentials and corporate training, all in the great outdoors.
They had to close in March 2020, they pivoted to help their schools very quickly with support for teachers that were in partially opened schools for keyworker children, and to help them to use their outdoor space as effectively as possible, the outdoors being one of the safest places to be. They provided lots of free resources that were downloadable on their website, created special newsletters, social media posts, forums where they could swap ideas, links to videos of practical sessions that they could deliver.
They ran four CPD training days for primary school teachers to support them with their increased outdoor education when the schools reopened. Their experienced instructors delivered programmes in the key subjects which could be taught across multiple year groups.
During the first lockdown, they supported a number of social services teams with their displaced and vulnerable young people.
They worked with NHS Seacole Centre at Headley Court – transporting their keyworker staff to and from Epsom Hospital.
With their Outreach work. Their team went into schools to deliver outdoor learning programs and made this COVID safe so it could continue for key worker children. This was deliverable straight to the pupils and also to the teachers to enable them to deliver outdoor learning too.
They have an alternative learning provision for children that aren't in mainstream education and weren't engaging in any learning during lockdown. They came to their centres and they delivered bespoke outdoor learning programmes for them.
They provided day visits for Year 6 children who had a very disrupted year, and wanted to come together and do something positive. They provided them with covid-safe outdoor activities that they could really enjoy together.
After the Lockdown, they had to think of new and safe ways to bring their business back and help the local community.
They have always worked with vulnerable young people and, during the pandemic, the need for this support really ramped up. Their instructors and staff went above and beyond to help reach and support the most vulnerable, and they also got involved in Government initiatives to help children on free school meals. They ran 'Fit and Fed' camps during the Summer holidays in 2020 and 2021 and HAF (The Marcus Rashford initiative – Holiday activities with Food) in 2021. They were a great success and allowed children who wouldn't normally have a summer camp or holiday something to look forward too.
Safety is their main priority and their activities and programmes have been fully risk assessed resulting in the introduction of enhanced safety measures and stringent hygiene procedures, whilst ensuring socially distancing to protect their customers and staff alike. Surrey County Council's Strategic Risk management advisors have endorsed everything that they have introduced and have been supporting the implementation in Surrey schools.