13th October 2021
| Covid-19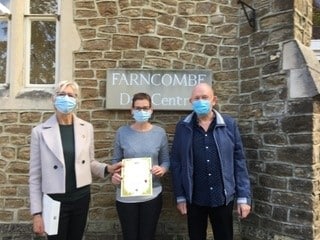 Lieutenancy Certificate of Appreciation
On Wednesday 13th October, on behalf of the Lieutenancy, Deputy Lieutenant Perdita Hunt OBE, presented Farncombe Day centre with a Lieutenancy Certificate of Appreciation.
The Farncombe Day Centre provides a friendly and welcoming place in the community, where people living in the Farncombe and Godalming area can meet and socialise. While the focus of the Centre is on those aged over 50, people of all ages are welcome to come in for coffee/tea and cakes, lunches or to use their services and participate in their activities. During Covid the Centre remained open and staff took meals to people in their homes. At certain points they were distributing over 60 meals each day. Whatever the weather and whatever the crisis, Farncombe Day Centre provides a warm welcome and very cheap bacon rolls.
For those who are isolated, the outreach work of the Day Centre is a lifeline, particularly during the lockdown. The Centre Manager, Annette Clarke, kept in touch with a large number of people by telephone. The Volunteers turned their hand to different tasks, and Bill Hislop, the Chairman of the Trustees, undertook the shopping for some of the 30 people who were housebound and could not get a delivery slot. It was a team effort and the Farncombe Day Centre continues to provide hope and light to many.