22nd October 2021
| Covid-19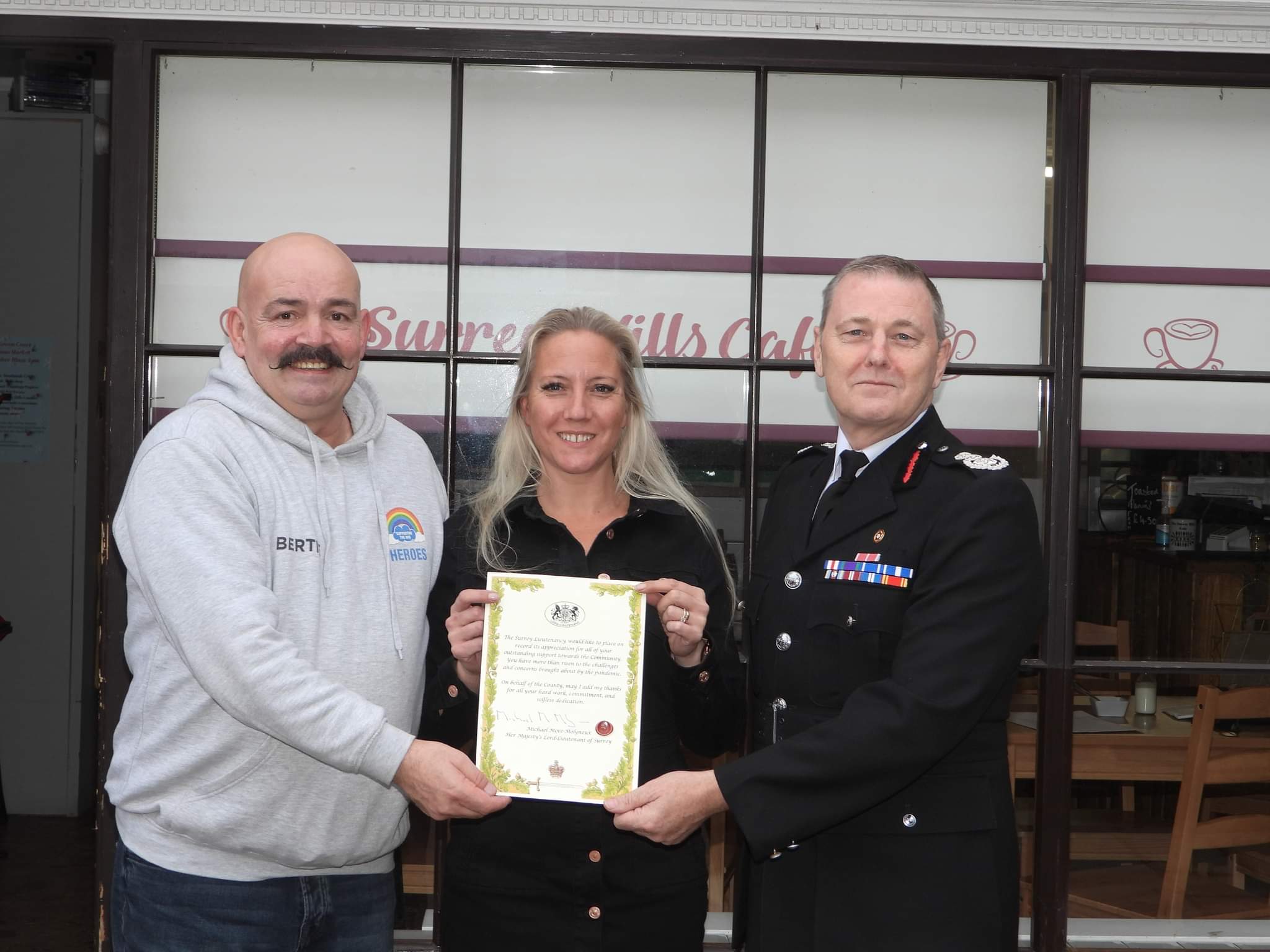 Lieutenancy Certificate of Appreciation
On 18th October, Deputy Lieutenant, Steve Owen-Hughes MBE presented a Lieutenancy Certificate of Appreciation to BGN.
BGN, which stands for Bertie, Gemma and Nicki, was formed at the start of the pandemic to provide assistance for the vunerable, elderly and families/individuals in isolation and unable to leave their homes. It was the idea of Ian Grundy, however due to personal reasons and soon after formation, Ian was unable to continue so Gemma came on board at that point and the G for Grundy was soon replaced by G for Gemma!
Bertie, Gemma and Nicki all volunteered to run BGN and together distributed food on a daily basis to people who called for help on their website or from word of mouth, neighbours and friends who were concerned over people in their community. Raffles were organised with donated prizes to raise funds, but the majority of the money came from the kindness of the community/general public and all together fund raising totalled just over £27,000 every penny of which was put back into the community.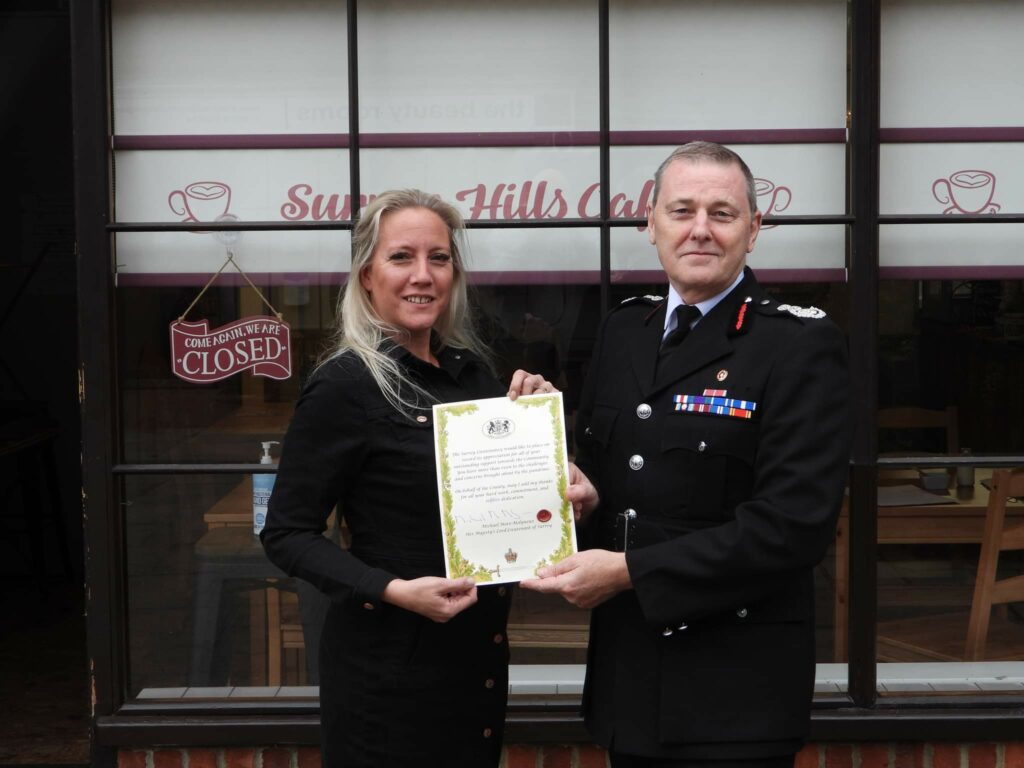 BGN supplied PPE to care homes who were desperate for equipment and Fiona from Bramley House Westcott, who was interviewed on the BBC, openly admitted that without BGN life would have been extremely difficult. Boxes of sanitiser, hand cream, and Vaseline lip care, were gifted from a young lady who had written to Unilever asking for donations for the nurses working so hard in the NHS and having received such a tremendous response gifted the surplus to BGN. These were then delivered to local doctor surgeries together with boxes of biscuits/cakes as treats. Latex Gloves and protection aprons were donated from tattoo studio's having to temporarily close due to the shutdown. Household items such as vacuum cleaners, cookers, washing machines, plus mobile phones, play stations and toys formed many of the kind donations and were greatly received.
Bertie, Gemma and Nicki fitted this service around their jobs, Bertie, a Warehouse operative, Gemma, a child minder and Nicki proprietor of Surrey Hills Café in Beare Green. Bertie's house was the collection point, and the garden was soon turned into a food store with three freezers and two fridges as well as food crates housing fresh vegetables, fruit, tinned and non-perishable foods.
Every day shopping bags were filled with fresh meat, butter, milk, bread, vegetables, fruit and tinned food by Bertie. Meat and perishable goods were funded by the donations from the general public and Bertie would fill trollies on a regular basis, so the store was never empty. Gemma and Nicki would arrive daily, collect the 'Smile' bags and then distribute to everyone on the list created from the website to people in need. Mondays were usually the busiest with over 30 bags of shopping distributed to the local community. As one lady in insolation once said, BGN was the only friendly face and contact with the outside world she received during lockdown.
Weekly deliveries of food and treats were also made to the Fire Service and Ambulance Station at North Holmwood together with the Police Office at MVDC. This was BGN and the community's way of thanking them for all their hard work not just during the pandemic but at all times. Ready meals were kindly donated by Mandira's Kitchen, and were a very popular item in the shopping bag.
Zoe Davidson aged 8, was the BGN 'cake and cheese straw baker' making cup-cakes and treats for the elderly and Micky Bowers, a milkman, delivered crates of milk in the evenings after work. Koala Ward dressed up in various costumes to raise money and also delivered lovely freshly baked rolls for the smile bags.
Laptops were donated and given to school children so they could continue home-schooling during lockdown. Nigel and Darren gave their services for free to repair and clean down the laptops before sending out to families.
BGN decided to wind down at the beginning of 2021 but still operate in the background collecting wheelchairs, walkers and aids for the disabled in the community. BGN wanted to help the local community through a very difficult time and hopefully this was well achieved by the many responses of thanks received – as Nicki once said "BGN just steered the ship helped along the way by our wonderful community. Thank you to everyone single one that donated and gifted – our community will be forever grateful"