1st November 2021
| Covid-19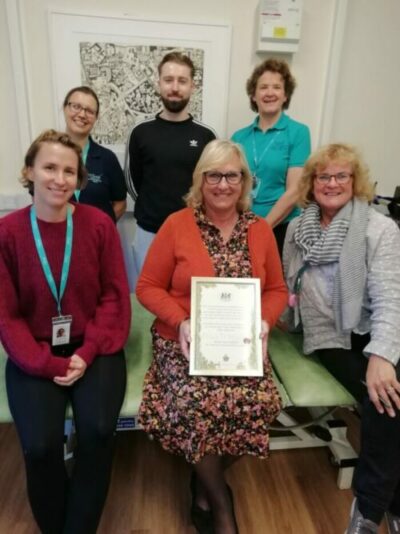 Lieutenancy Certificate of Appreciation
The staff and volunteers at The Meath in Godalming received a Surrey Lieutenancy Certificate of Appreciation last week from Caroline Breckell MVO DL in recognition of the amazing work they did during lockdown to support the residents of The Meath during lockdowns. Lockdown saw many changes across their services in order to continue providing the very best care and support. They set up an Isolation Ward in case any resident presented with COVID-19 symptoms. However, this was not used, and they had several cases of COVID-19 at The Meath all residents fully recovered. Due to their stringent Infection Control Protocols they were able to contain the outbreak each time this has occurred. All non care facing staff worked from home for the duration of the lockdowns.
From zoom GP appointments, physio sessions, outside orthotic appointments, to medication deliveries to residents who returned home to their families, many 'behind the scenes' services continued in adapted form. The usual daily activities were unable to run in the Skills Centre and Changing Perceptions. However, their resourceful team led a wide variety of socially distanced activities and special events. Not being allowed off site and being unable to see their families or mix with people from outside their households was very hard for residents. Therefore, a range of fun, outside, socially distanced special events provided them with some real highlights and many opportunities to get involved with preparations.
They ran daytime sessions and activities outside which helped reduce the risk of infection. They purchased iPads, activity materials, books, toys and games along with outdoor games and a karaoke machine to help keep residents entertained, engaged and socialising during the day and in the evenings.
To help with emotional health and well-being the staff supported the residents using zoom, Facetime, making cards etc to keep in touch with their friends across the site and their families which was vitally important to everyone.
Throughout this time The Meath community has been incredible.