1st September 2023
| News in your area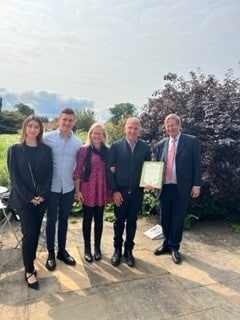 Lieutenancy Certificate of Appreciation
On Tuesday 29th August, the Lord-Lieutenant presented Guildford restaurant owner, Franco Terracciano, with a Lieutenancy Certificate of Appreciation in the gardens at Loseley Park.
During the Covid pandemic rather than closing his restaurant, he went in and cooked dishes which he then delivered to the local community centre. He fed the people of Guildford who had no food and people who were in need.
As soon as the war in Ukraine started, he supported a number of people to come to the UK and provided or arranged housing and work.