22nd December 2021
| Covid-19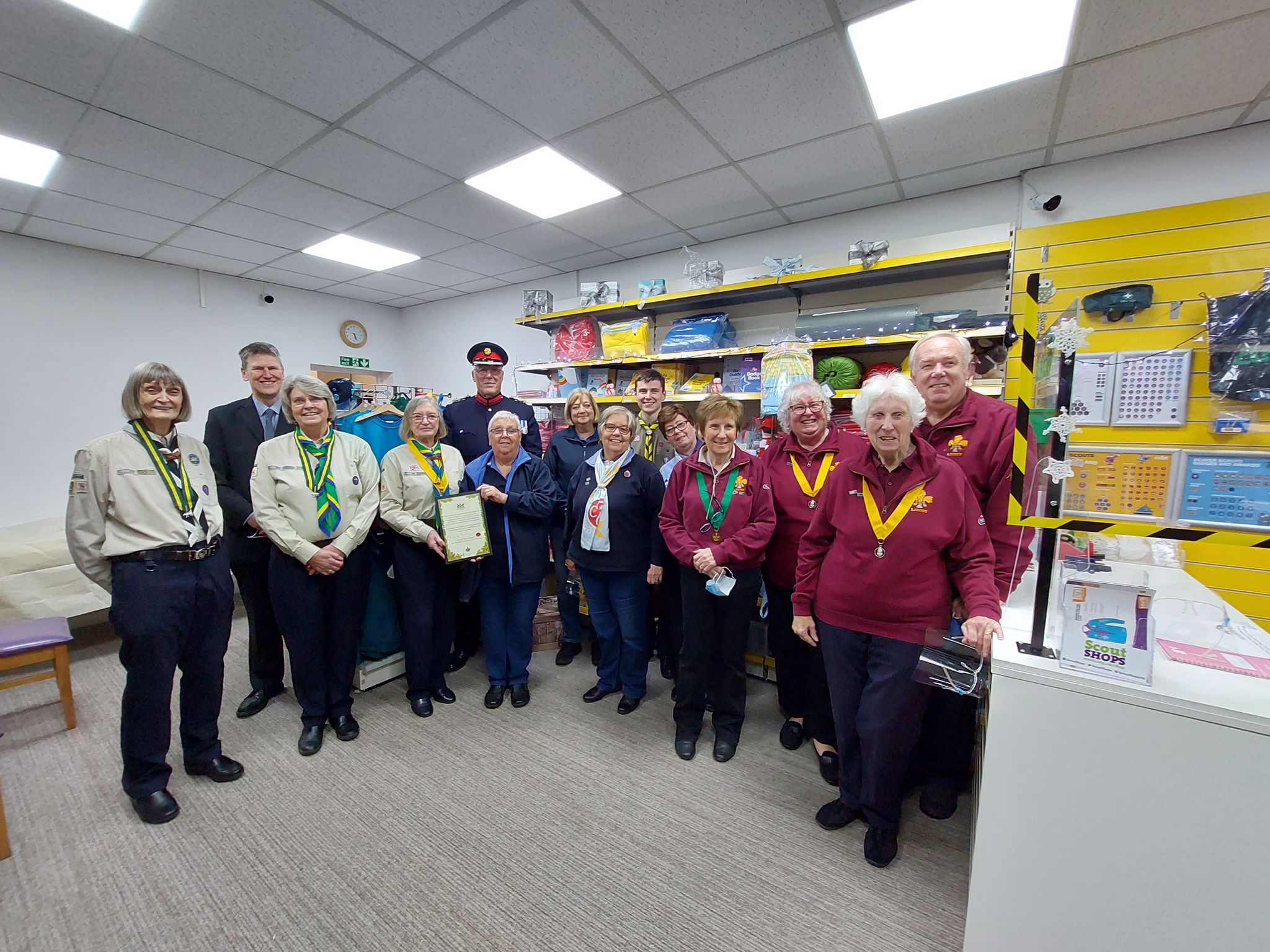 Lieutenancy Certificate of Appreciation presented to the team at Epsom and Ewell Scout Shop in Stoneleigh
On the 13th December Deputy Lieutenant, Martin Gerrard QPM presented a Lieutenancy Certificate of Appreciation to the team at Epsom and Ewell Scout Shop in Stoneleigh.
The shop is entirely managed and run by volunteers led by Joyce Nicholas and all have other volunteer roles in Scouting and Guiding in addition to their normal 'day lives'. The shop provides the uniforms, badges and resources to support Scouting and Guiding in much of north Surrey and beyond. Much has been written about the effects of the pandemic on the mental health of young people and the tremendous benefits that derive from being a member of a uniform youth organisation. Whilst Scouting and Guiding has adapted and continued throughout the pandemic, Groups and Units have relied heavily on the services the shop provides, not least in the provision of uniforms and being able to supply the appropriate recognition of achievement.
Although lockdowns forced the shop to close, the volunteers continued to maintain their service by telephone and email and then making deliveries in their own time and at their own expense. Re-opening required the shop to be adapted and refitted with suitable Covid safety measures, again by the volunteers.
Not only have they maintained their excellent service throughout the last eighteen months, but all the profit from the shop is returned to local Scouting, and in the last six months alone they have raised over £20,000. The certificate was presented to 17-year-old James Nicholas, the youngest member of the team who received it on behalf of the volunteer team who then braved the cold for a 'Covid friendly' outdoor photograph!