18th March 2022
| News in your area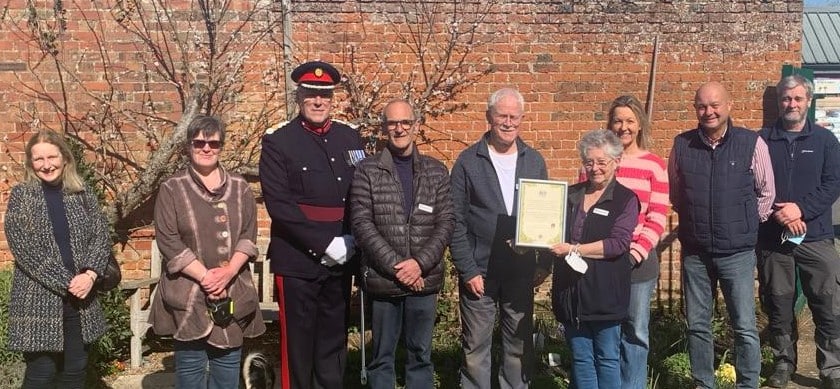 Lieutenancy Certificate of Appreciation presented to The Well Being volunteer team
On Thursday 17th March, on behalf of the Lieutenancy, Deputy Lieutenant Martin Gerrard QPM, presented a Lieutenancy Certificate of Appreciation to representative members of The Well Being volunteer team at the Old Moat Garden Centre in Epsom.
Part of the Richmond Fellowship mental health charity, the Old Moat Garden Centre is self-supporting, and reinvests all of its profits and revenue back into the charity. The centre provides a vital work-based program for local people living with mental ill-health, giving them the confidence and skills to get back into work and employment. They are currently supporting over 50 people on their recovery journeys, a service they have continued to provide throughout the pandemic.
The Old Moat Garden Centre provides all the garden centre essentials, as well as a unique range of gifts, local products, furniture, fuel, a wide selection of quality plants, and a fabulous café. It offers those challenged with mental ill-health the opportunity to enrol for formal or informal training, and work experience programmes in a realistic, commercial, but supportive environment, it offers training in nursery stock growing, propagation, vegetable and fruit production, as well as contract gardening and cafe training, including food hygiene, barista training and food preparation, this is all supported by a fantastic team of volunteers.