28th May 2021
| Lieutenancy News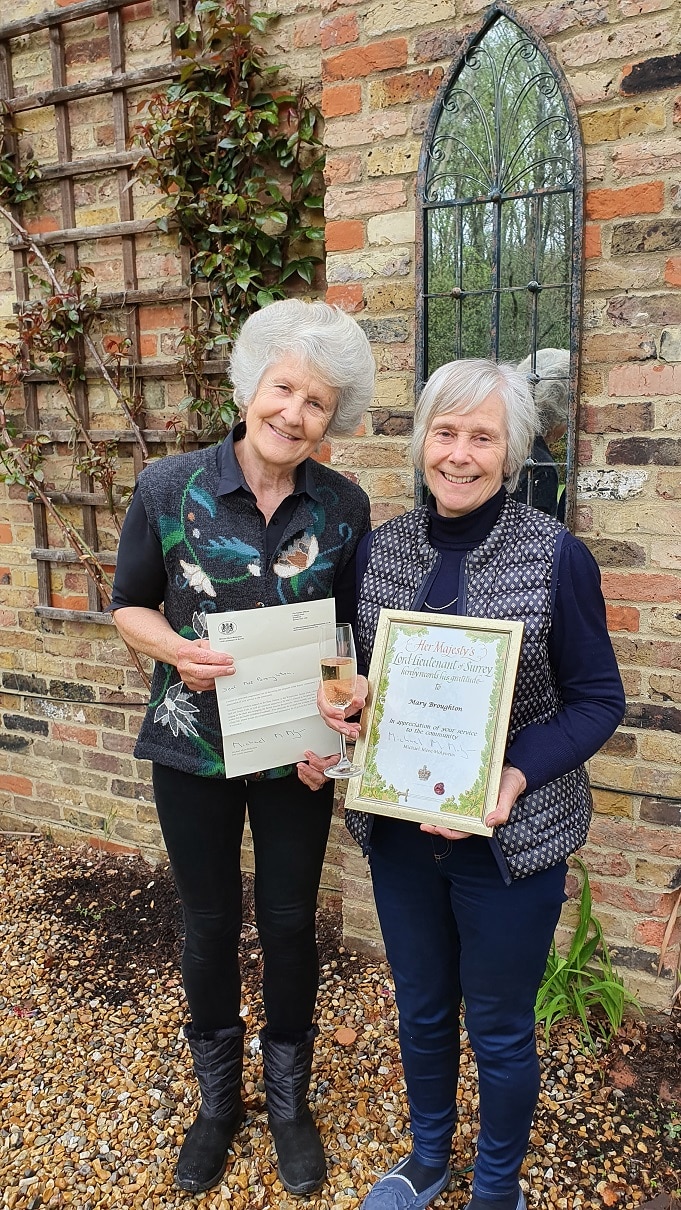 Lord-Lieutenant's Awards of Appreciation
New Lord-Lieutenant's Awards celebrate
exceptional service to Surrey's local communities
The first four recipients of Surrey's newly launched Lord-Lieutenant's Awards of Appreciation, conferred on individuals who have contributed exceptional service to their local communities, received their certificates, signed and sealed by the Lord-Lieutenant, at Loseley Park on Surrey Day, 1st May 2021.
Brothers Billy and Frankie Manton (aged 15 and 12) and their friend Joseph Perrin (aged 13) – all pupils at the Priory School in Dorking – are being rewarded for their quick thinking and empathy in saving the life of an 87-year-old man, whom they found collapsed in woods and rescued.
Mrs Valissa Burnett of Chiddingfold has been recognised for her inspirational initiative and leadership in recruiting and motivating a team of 25 local sewers at the start of the coronavirus pandemic, to meet the shortage of PPE for NHS staff and care charities across Surrey.
In addition, a further 20 worthy recipients of these Appreciation Awards – which aim to acknowledge those whose efforts are too often overlooked – appear on the inaugural list. The Lord-Lieutenant, Michael More-Molyneux, knows from first-hand experience that many people – of all ages, gender and ethnicities – are adding real value at every level to the quality of life across the 11 Boroughs and Districts in this county. He believes that if their efforts cannot be recognised nationally, they nevertheless deserve to be appreciated more widely.
"I fervently hope that these newly created Lieutenancy Awards will have real value in embedding a sense of the county's appreciation to so many individuals who dedicate selfless work to their communities," he explains.
"The aim is to make at least 50 Awards each year. The task of actively nominating suitable candidates – those who go 'above and beyond' as volunteers – sits with my Deputy Lieutenants, and they are consulting widely across Surrey's communities to fulfil this role."
The Awards of Appreciation – framed certificates, signed and sealed by the Lord-Lieutenant and accompanied by his letters of congratulation – are being presented to the 20 other winners by their nominating Deputy Lieutenants during May & June.
2021 Lieutenancy Award of Appreciation winners are:
Maggie Fullylove
Peter White
Jan Heasman, Judith Broome, Chris Butterfield, Pip Davis & Jill Elliott.
Peter Beaumont
Tim Austin
Billy Manton
Frankie Manton
Joseph Perrin
Mary Broughton
Mathieu Glover
Glen Ho-A-Shoo
Julie Ho-A-Shoo
Christine Bannister
Dennis Brown
Deborah Goldsmith
Alice West
Dan Phillips
Faye Tolliday
Kian Cormier
Max Duckworth
Vasil Lazarov
Dawn Barrow
Alison Elson
Valissa Burnett