20th July 2022
| Lieutenancy News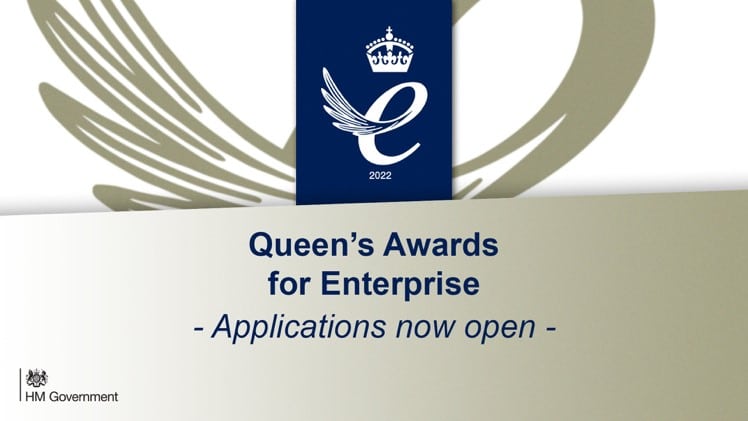 Queen's Awards for Enterprise
As regional chairman for the SE Lord Lieutenants on the Queen's Award for Enterprise the Lord Lieutenant attended a celebratory reception hosted by HRH The Prince of Wales and attended by other members of the royal family at Buckingham Palace recently. It was an opportunity to meet representatives from an amazing cross section of companies across the UK who have won the Award this year.
Our congratulations to the four Surrey companies who were successful this year:
Mantra Hair Limited, Thames Ditton (Innovation)
Silent Pool Distillers, Albury (International Trade)
Stanhope Seta Limited, Chertsey (International Trade)
Wates Limited Leatherhead (Sustainability)
The Queen's Award for Enterprise are a national Award -they offer local and global recognition for businesses and all a royal endorsement which would raise the profile of your business both at home and overseas .winning the award is huge reason to celebrate not only does the Award provide a boost to your business trade and media opportunities but it is also good for staff morale and retention.
The Queen's Awards for Enterprise are the highest accolade for business success. Honouring outstanding UK companies, they encourage the development of British business and recognise companies in four categories:
International trade
Demonstrating growth in overseas earnings.
Innovation
Proven commercial success through innovative products or services.
Sustainable development
Integrating environmental, social, economic and management aspects of sustainable development into their business.
Promoting Opportunity through social mobility
Have had a social mobility programme running for more than two years, helping socially disadvantaged individuals or groups.
The awards are made each year by HM The Queen, on the advice of the Prime Minister assisted by an Advisory Committee that includes representatives of Government, industry and commerce, and the trade unions.
To find out more about how to nominate your business for the 2023 round of awards please visit:
www.gov.uk /queens-awards-for-enterprise,
the deadline for applications is midday on the 6th of September 2022 .