26th August 2021
| Covid-19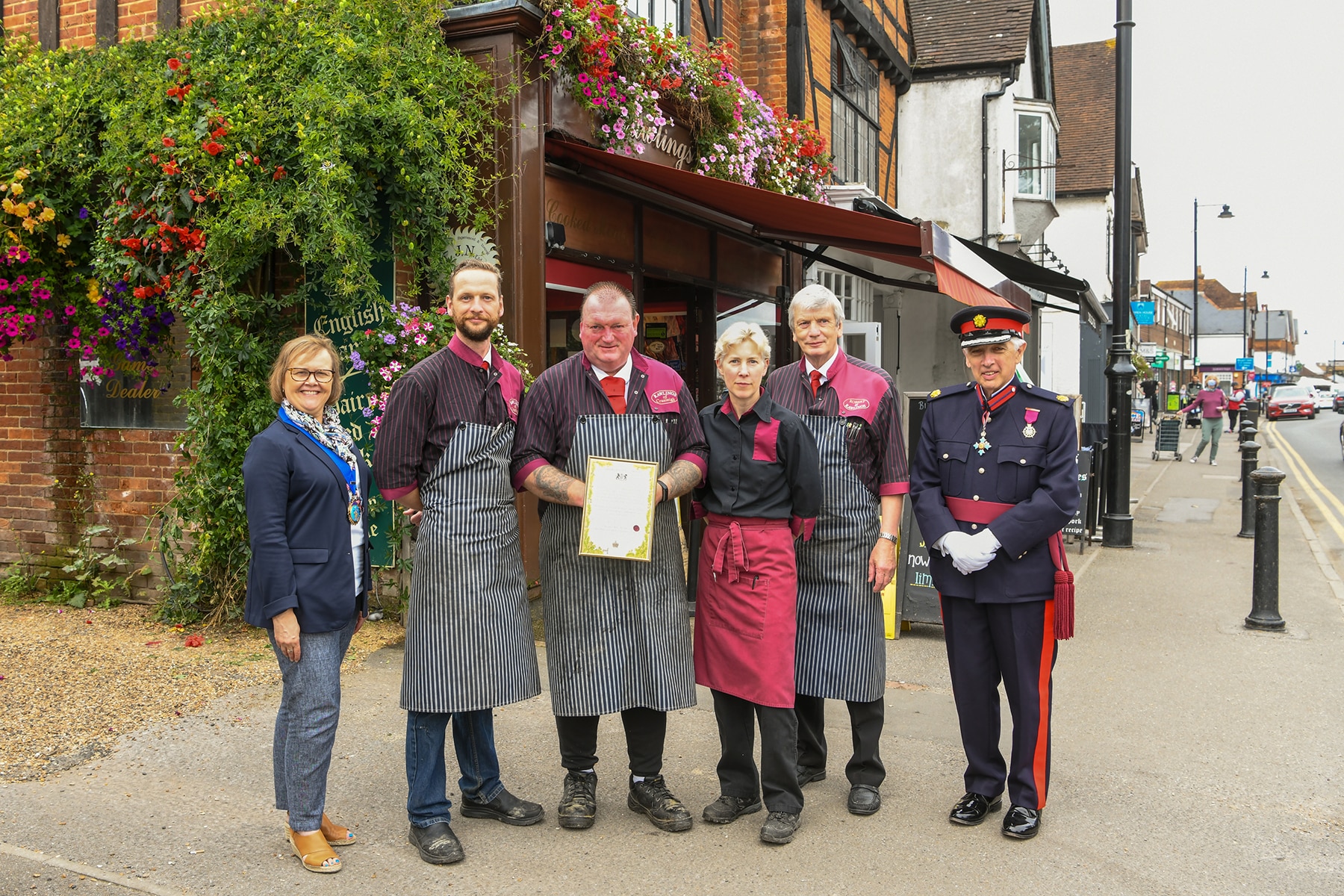 Surrey Lieutenancy Certificate of Appreciation
The Lord Lieutenant has asked the Deputy Lieutenants of Surrey to identify the local businesses who went 'above and beyond' to protect their customers during the pandemic. Last week Robert Napier CBE DL visited five businesses in Cranleigh to present awards to thank them for their dedication to duty.
'CRANLEIGH FISH' is very much a family business with father – Mr Duffell, Mother – Chris and their Son – Steve, who now owns the business. Once the pandemic hit, they were very concerned about their customers and expanded their home delivery service for orders, whether great or small. To do this they employed a driver and also Steve himself was on the road delivering in the evenings having started work at 06.00am and often earlier. They are the only wet fish shop in the Cranleigh area and customers come from miles around due to their high standards, excellent customer service and warm approach.
'RAWLINGS BUTCHER' is also one of Cranleigh's well-known and much valued family owned businesses with loyal customers aplenty before Covid struck. The challenge for the owner Robert Rawlings was to ensure his staff were not infected, both for their sake and to avoid having to close the shop if any member of staff tested positive. This was of significant concern. Robert went to extreme efforts to enforce personal distancing, good hygiene, protective wear etc. and to date the shop has not had to close. His customers are most grateful.
CELEBRATION CAKES' is one of those organisations who have made a real difference in the town. It is a family bakery business owned and run by Simon Cornwell (very local, having been head boy at Glebelands school). Bread, cakes and other delights are all baked on the premises. Once Covid struck, this bakery joined with Rawlings Butchers to provide a home delivery service for residents of Cranleigh and surrounding villages, where individuals were often afraid of leaving their homes. The bakery would go out of their way to deliver one loaf of bread and perhaps a lamb chop literally going the extra mile. A fantastic community service.
'CRANLEIGH FOOD BANK' is another business to have made a significant difference. This has been hosted by the Cranleigh Baptist Church and is very much a community effort. Supplies come from public donations into trolleys at the Co-op and Sainsbury's, and parcels are made up of non-perishable items. Marks and Spencer's donate directly on a weekly basis and during the lockdown the Food Bank delivered to people's homes. As an example of the scale of operations, the food bank provided over 200 dry food hampers and 78 fresh dinner hampers at Christmas time. Recipients are also assisted by voluntary staff by sign posting people to agencies able to solve longer term problems.
And last but not least, 'WARREN HOUSE DENTAL PRACTICE' is a business that was very affected by Covid and dentists were of course closed for some time, but the owner of the practice and senior dentist Dr Nathan Green planned ahead for re-opening. He was determined to make his clinical rooms as safe as possible and arranged a supply from Korea of state of the art air extractors designed there during the SARS crisis and not available in the UK. All his consulting rooms had this equipment fitted and operational when he was able to reopen on the first permissible day
Dr Green was very concerned the inevitable backlog of patients and on re-opening arranged to see patients from 07.00 in the morning enabling those at work to receive prompt attention. The result has been that patients for dentistry and dental hygiene care have not faced significant delays in obtaining appointments, which has not been the case everywhere.
On Presenting the awards Mr Napier said, "It has been an honour for me to represent the Lord Lieutenant in recognition of the efforts put in by the business owners of Cranleigh. Their actions will have helped to stop the spread of Coronavirus and save lives and we thank them and all in the town who also followed the Covid19 guidelines for their efforts."