8th August 2023
| Lieutenancy News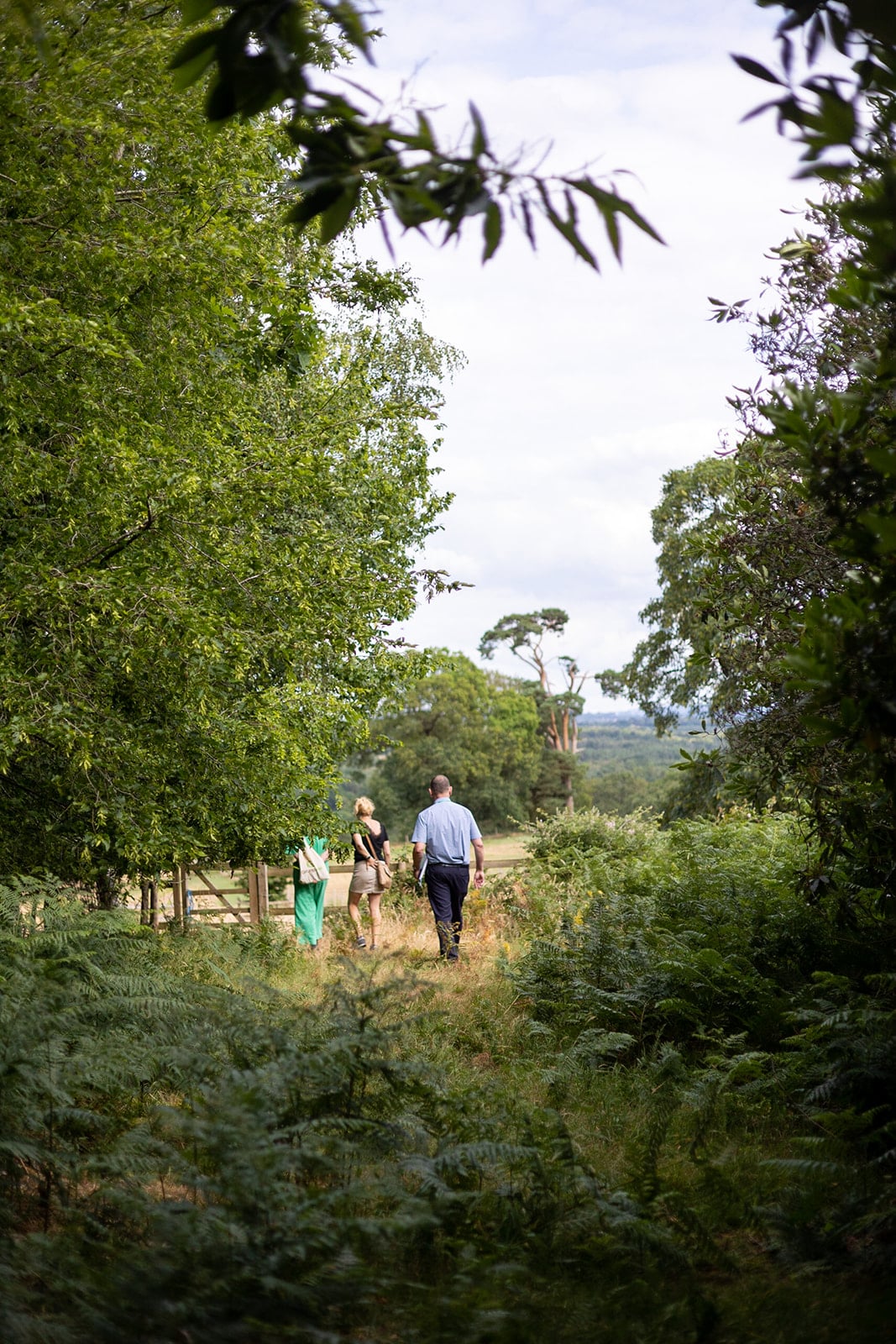 Surrey Lieutenancy Climate Change Focus Group
The Beginning
The creation of the Surrey Lieutenancy Climate Change Focus Group by The Lord Lieutenant in 2021 was recognised as never going to solve the most pressing problem for humanity, but through collaboration and connection could strengthen Surrey's understanding and response to the problem.
And this is proving to be the case. Under the joint chairmanship of Bridget and Bill Biddell the first stage was to bring key sectors of the county (academia, local government, charities, business, faiths) together to discuss their response to climate change and to understand their plans and strategies.
What emerged were very positive, innovative, and comprehensive plans to tackle climate change across the county, but the overriding theme was that everyone was inevitably working in their own world and at their own pace. The Focus Group found that simply by bringing the sectors together communications were immediately improving, and ideas were being shared.
The next step was to broaden this process utilising the Lieutenancy's powers of convening and connecting across the county and The Netwalk for Change was born. A Netwalk is a conference on the move, based on a one-kilometre walk through stunning Surrey Hills landscapes with pre-arranged stops (in a glade or under a tree) where expert speakers on different aspects of climate change would address everyone. Working on the principle that by walking together every delegate would meet every other delegate and have the chance to introduce themselves, discuss their own work and comment on the speakers, the format would provide the right cocktail for innovative and useful conversations. Our measure of success was for everyone to meet three new people and remain in touch after the event to further discussions.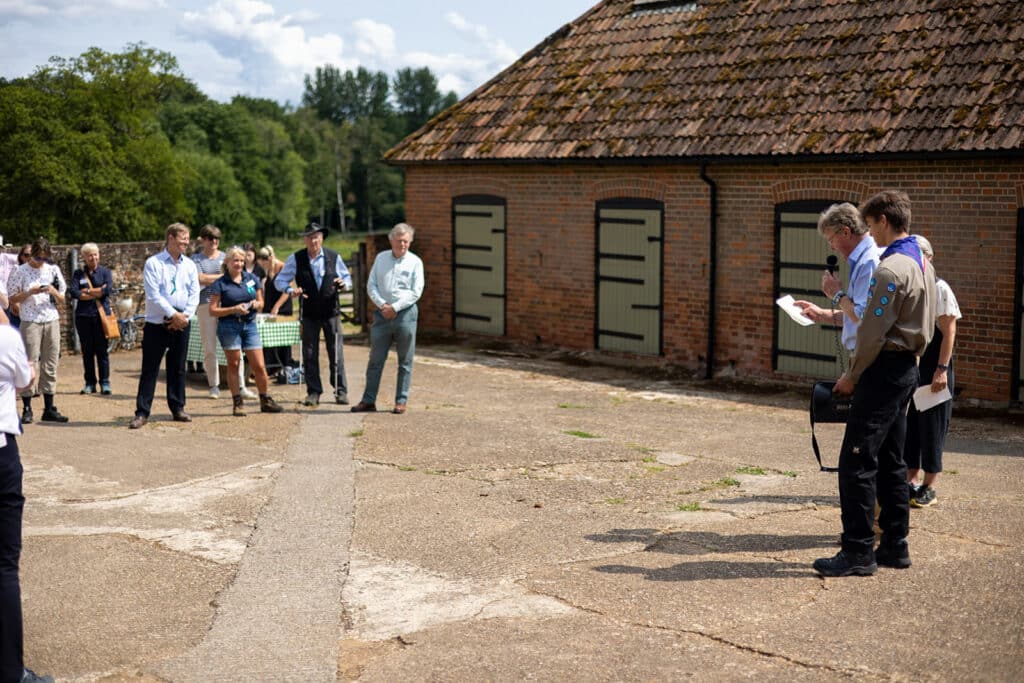 Again, this proved to be the case. The Netwalk took place on Thursday 29th June in the afternoon from Myrtle's Courtyard at The Hampton Estate, Seale in near perfect summer conditions. 65 delegates convened, including The Lord Lieutenant and The High Sheriff, all invested in climate change, representing an excellent cross section of the county. They listened to short presentations from eight inspirational speakers representing Rewilding Britain, Wates Group, Surrey Satro, Surrey County Council, Motion Consultants, Penfolds Woodland Management, Royal Surrey County hospital and The Hampton Estate. The buzz was palpable, conversations were positive and loud, and the concept of a Netwalk worked. Everyone returned to Myrtle's Courtyard at the end of the walk for world wildlife photographer of the year and Big Cat Diary presenter Jonny Scott to sum up and give his own international perspective.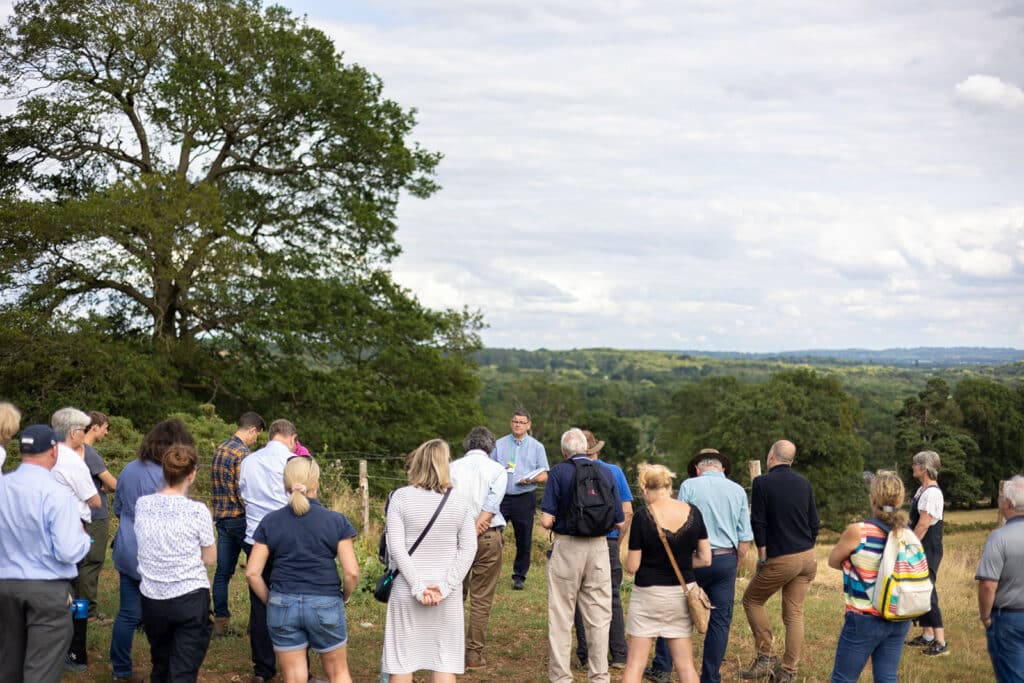 Discussions and conversations continued over canapes and drinks whilst new connections continued to be made.
What next? The Lieutenancy Climate Change Focus Group will meet again in the autumn to take stock and decide on next steps. In the meantime the Lieutenancy can reflect on the success of using its soft powers to bring key people together for a common cause.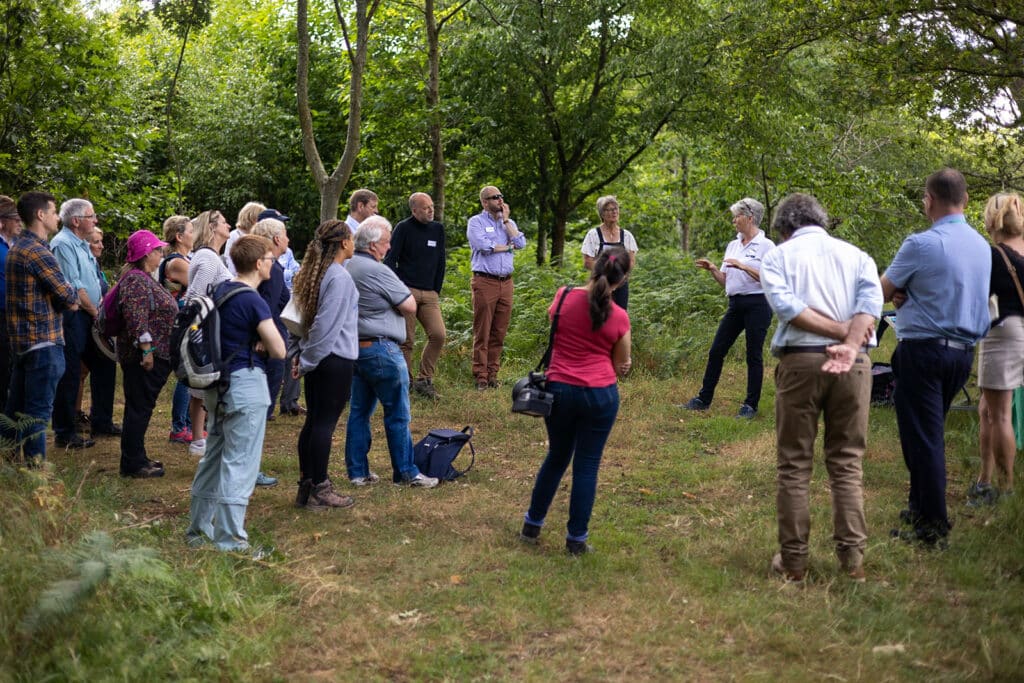 The Lieutenancy Climate Change Focus Group is now up and running. It will meet again in the autumn.