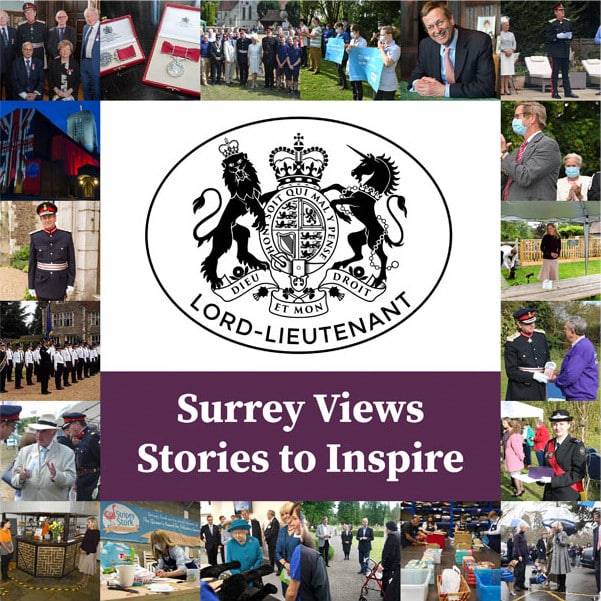 Update on Arts and Culture Focus Group, June 2022
As we reported here in Surrey Views in June 2021, the Arts and Culture Focus group was established by the Lord-Lieutenant of Surrey to shine a light on the work of practitioners, organisations and current and potential users of Arts, Culture and heritage in the county. Since its first meeting in October 2020, this Lieutenancy group has consulted with a number of different people and organisations involved in arts and culture in Surrey; held a webinar in June 2021, which was attended by 120 representatives of the sector; and founded the Surrey Cultural Partnership (SCP), which had its first meeting in January 2022.
We are delighted to report that since then, the SCP has agreed its purpose:
to ensure that everyone in our county has the opportunity to participate in, engage with and contribute to extraordinary cultural activity, whoever they are and wherever they live.
The SCP members – 20 representatives from different art forms, heritage, education, local authorities, local communities, business and creative industries – have given themselves three priorities, to:
• build a countywide collaborative ethos across the sector;
• develop a Cultural Strategy for Surrey;
• attract new investment into cultural activity for Surrey.
Thanks to generous independent funding, a project co-ordinator, Jodie Sadler, has been appointed to support SCP and to help develop the Cultural Strategy for Surrey.
This is the current update (June 2022) as these three strands move forward:
1 Collaboration
There is work in progress to establish a Cultural Leaders' Forum.
Working with a small group, the co-Chair, Gavin Stride, is looking at how to connect the arts and heritage, with young people and with the huge number of amateur arts and culture groups in Surrey.
A second sector event, building on the Lieutenancy Arts and Culture Webinar in June 2021, is being developed by Steve May, Director of Leisure at Woking Borough Council and a member of Surrey Cultural Partnership.
A presentation has been given to a number of Surrey's Arts Societies and their views sought on the development of the cultural strategy. There are 4,500 members of these Arts Societies across the county.
The idea of a LinkedIn arts, culture and heritage network is being explored.
Given the diversity of organisations and individuals working in, supporting or benefiting from arts, culture and heritage across Surrey, SCP is considering setting up a series of sub-sector groups so that participants feel their voices can be heard and that they can feed into the development of the strategy.
Through SCP, the Director of Watts Gallery – Artists' Village, Alistair Burtenshaw, is promoting the use of Smartify, the world's most downloaded museum app, to other arts places and users in Surrey.
2 Strategy
Our Cultural Co-ordinator is being mentored by the Buckinghamshire Culture Project Co-ordinator.
The SCP Co-ordinator is joining Surrey Arts Partnership (the strategic alliance of nine local councils who work together to shape and deliver a cultural offering for the whole county) for their meetings, to discuss shared strategic objectives.
The SCP's first view on the priorities for a Surrey Cultural Strategy are:
Wellbeing – developing and investing in the impact of the arts, culture and heritage on mental health and wellbeing. Already, through the SCP, Surrey is being used as a pilot for a social prescribing project – led by a member of SCP, Dr Gillian Orrow.
Safety – supporting and advocating the impact of arts and culture in reducing crime and building community. As a result of SCP there is now some shared data being collected around the link between the affect on crime levels and the presence of arts and culture activity in areas of Surrey, and the mapping of arts organisations and artists
Evaluating the impact of arts, culture and heritage in the county: the University of Surrey is supporting SCP in establishing a tool for this.
3 New investment
A conversation is starting between the SCP, the Community Foundation for Surrey, the Arts Council and Surrey County Council to explore ways of increasing investment for the cultural sector in Surrey.
A meeting with the two Local Enterprise Partnerships which operate in Surrey – Coast to Capital and Enterprise M3.
An approach to key Surrey philanthropists who are supportive of the arts, culture and heritage nationally is being considered.
Surrey County Council, a member of SCP and a supporter in part to the Cultural Co-ordinator post, is progressing work on Cultural Mapping Surrey. Below is the SCC link for any cultural organisation, venue, individual or those running creative activities – or anyone who is aware of a cultural activity in the local community – to complete the form and get added to the new interactive map: https://surreycc.maps.arcgis.com/apps/GeoForm/index.html?appid=b9332ec49aa440cca6568ec99f19edb2
Once the map goes live on 4 July, residents and visitors will have access to the county's diverse and exciting cultural offer.
The next meeting of Surrey Cultural Partnership is on 13 July.
If you have any thoughts, recommendations, advice and reactions which you would like to share, please contact Perdita Hunt DL, Co-chair of SCP at perditamhunt@gmail.com or Gavin Stride, Director of Farnham Maltings, Co-Chair of SCP at gavin@gavinstride.co.uk