4th May 2020
| News in your area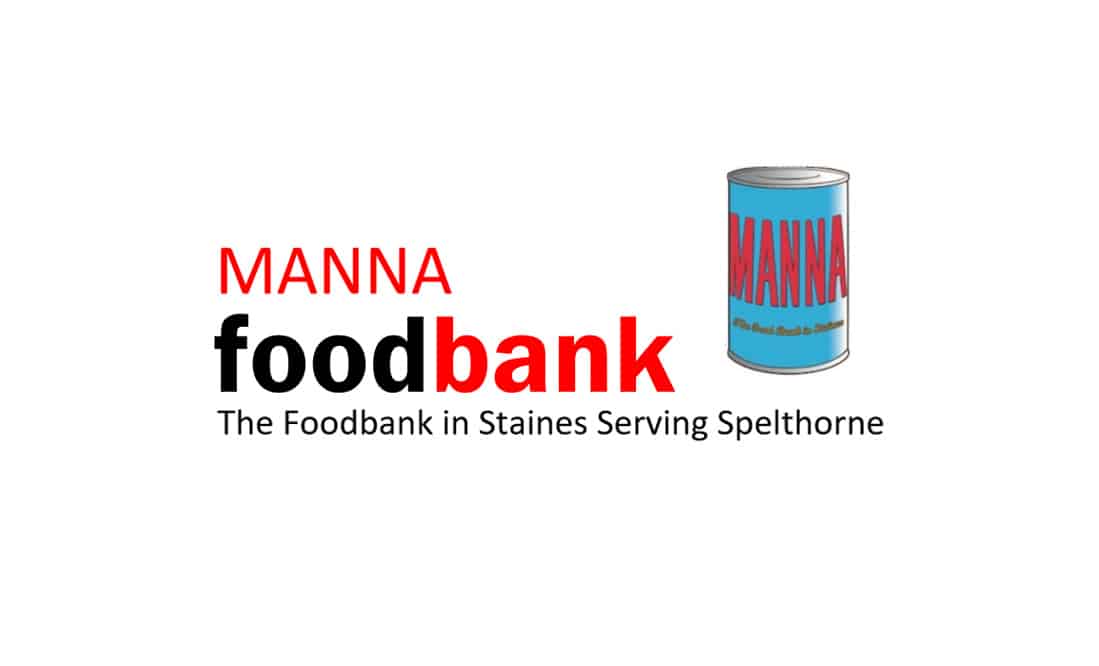 Manna Foodbank
CFS grant helps Manna Food Bank support vulnerable Spelthorne residents
The volunteers and trustees of Manna, the independent food bank for Spelthorne, were delighted to receive a grant of £5,000 on 28th April 2020 from the Coronavirus Emergency Fund being administered by the Community Foundation for Surrey on behalf of the National Emergencies Trust. The money has been spent on purchasing fresh fruit, vegetables, bread, eggs and milk, which supplement the tins and packets of dry food in a food parcel at this time of need.
Manna is different from some other food banks, as it does not cook or serve lunches, or deliver ready-cooked meals to residents. Its volunteers provide parcels for those in urgent or immediate need, before other statutory services can step in. Volunteers can tailor parcels for dietary needs such as vegetarian, diabetes, gluten-free and Halal, and parcels are based on living and cooking facilities, and on the needs of homeless people.
Manna was established in 2012, and was opened by the Bishop of Kensington, though it is operated entirely by volunteers and is independent of the Church of England. It takes referrals from statutory and voluntary organisations and individuals, eg doctors, social services, local authorities and others, and puts together parcels of food and other products designed to help families.
Donations are usually collected by local churches, but during the pandemic, with churches closed, the Manna volunteers have approached local shops to be temporary drop off points for donations – this has proved a great success. Volunteers then collect the donations and sell-by dates are checked at HQ. Everything is then sorted into food parcels for delivery to homes. Volunteers are out at least three times a week to cope with demand during the current pandemic.
The Chairman of the Manna Trustees, Elizabeth Wood-Dow OBE, welcomed the donation from the Community Foundation for Surrey, as a huge help at this time. "From the beginning of lockdown, we were having difficulty securing fresh products, but this brilliant grant enabled us to negotiate with wholesale suppliers who would deliver, saving us so much time and money," said Mrs Wood-Dow. "Our clients have of course benefitted too, and they thank our volunteers every time we deliver. So we would all like to thank the Community Foundation, who have stepped in to help us very promptly and swiftly."
Where to donate food for Manna
UPDATE AT 28 APRIL 2020: the Church Offices which normally take in donations are now closed. The following places have donation boxes for Manna and are open through the cororanavirus crisis during their normal business hours.
Sainsbury's Local in Shepperton. TW17 9AB
Sainsbury's on the Causeway in Staines. As you go in the main entrance, the donation box is on your left at the top of the travellator.
Barclays Bank on the High Street in Staines. Note many banks are reducing their opening hours so check first.
Penton Stores, 4 Penton Avenue, Staines TW18 2NB (opposite Wheatsheaf & Pigeon Pub)
Broadway Pharmacy, 3 Broadway, Kingston Road, Staines TW18 1AT Laleham Village Shop/Laleham Food & Wine/Best-One, 14 Shepperton Road, Laleham, Staines TW18 1SD.
Our Lady of the Rosary Church in Staines. Although the church building will be locked, you can donate items by leaving them on the presbytery doorstep when the Manna sign is up (10 am – 12 noon, 2 pm – 5 pm are good times).
If you feel your donation is too large to drop at one of these donation spots please email info@mannafoodbank.org.uk to arrange a delivery time to Manna. Note we are only taking in donations at Manna by appointment, not during our normal opening hours as access to the building is strictly limited at this time.