15th July 2022
| Lieutenancy News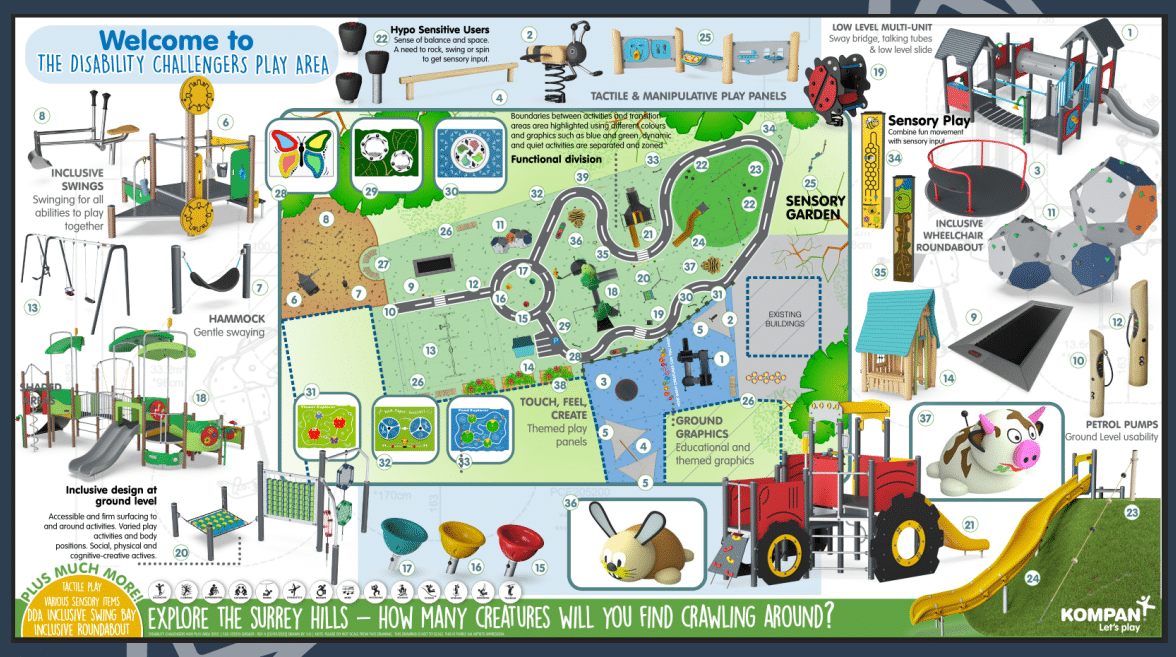 The Challengers big play appeal
The Lord-Lieutenant as Patron of Challengers, has learned about their exciting new campaign 'The Big Play Appeal' to build a brand new, fully accessible and multi-functional playground at Challengers Guildford Playcentre in Stoke Park.
After providing more than 25 years of fun and accessible play to thousands of children at Challengers, their much-loved Guildford playground was sadly removed as it had fallen into disrepair. But all good things must come to an end, and they now have the opportunity to build a bigger, better playground for the next generation of disabled children and young people, and the wider community.
Their new playground will cost £250,000 to build and maintain, so they need you to join them on their fundraising journey and help them to fund this amazing space which everyone can enjoy. You can donate here.
With a design inspired by the beautiful Surrey Hills, their new playground will bring the very best of Surrey to Guildford!
The new playground will be a versatile and diverse space with something for everyone, including:
A Brooklands-inspired circuit for thrill-seekers to run and race around.
Sloping green hills which children can climb, roll and slide down to their heart's content.
The tribute to the River Wey will run through the playground, providing children with a cool, calm place to splash about.
A large open sandpit inspired by the golden sand at Frensham Ponds, providing endless fun and games.
Every detail has been designed with purpose following extensive observation on how children prefer to play, the equipment they use, and thorough consultation with parents. The playground will feature specialist equipment to facilitate children with differing needs, including a wheelchair-accessible carousel, multiple seating options for swings, and sensory areas. It will also provide the opportunity to help develop children's motor skills – positively impacting on their everyday life.
When not in use at Challengers, they plan to open the new playground to the general public for local families to enjoy together. It will be a space where disabled and non-disabled children can come together, to make friends and learn from each other, without limitations.
"I believe it's important for children with additional needs to play alongside their non-disabled peers, otherwise neither will learn about one another and how rewarding accepting differences can be…"
Challengers Parent