1st September 2022
| Lieutenancy News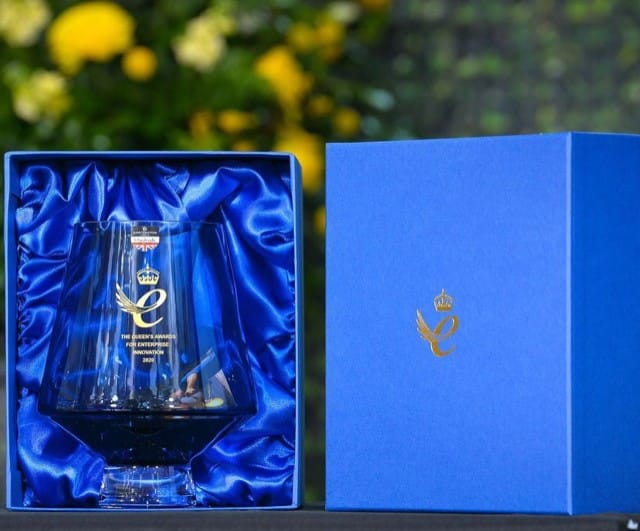 The Queen's Award for Enterprise is a licence to thrill for Surrey business
The Surrey Hills offers natural beauty and a much-needed opportunity to get away from it all for many of its visitors.
But behind the stunning views is a thriving and diverse community of businesses.
Tucked away at the foot of a bucolic country lane are two barns that look the very picture of a Surrey Hills idyll. They are the home to Cubic, A Queen's Award for Enterprise (international trade) award winner.
It is a business which many would say has more in common with James Bond than the beauty of the countryside. For behind the barn doors are the research and development capabilities, which provide communications and computerised technologies to armed forces and first responders from around the world.
This means designing, developing and delivering kit for everything from special forces through to fire services – from inflatable satellites to rugged computing for some of the harshest climates on the planet.
Zoe Yates, who is Director of Product Marketing and Customer Analytics, says that, "I was in the kitchen when our CEO phoned me" to share the news that the business was to be a recipient of The Queen's Award for Enterprise.
As a business often working on assignments that are subject to national security considerations, it means that Cubic is not able to talk about a lot of its work. It made the receipt of the award all the more special because of the recognition that it conveyed.
Zoe says that "to be recognised with such a prestigious award was such a morale boost." This was to receive a further boost by Her Royal Highness The Princess Royal who visited the business to make the award. "Staff morale was through the roof," says Zoe.
Since then the award has also become an important part of the pitch for Cubic, especially in Europe and Commonwealth countries.
The Queen's Awards for Enterprise are for outstanding achievement by UK businesses in the categories of innovation, international trade, sustainable development and promoting opportunity through social mobility.
Valid for five years, winners have reported benefiting from worldwide recognition, increased commercial value, greater press coverage and a boost to staff morale.
In turn, recipients are invited to a Royal reception; presented with the award at the company by one of The Queen's representatives; able to fly The Queen's Awards flag at the company headquarters; and use the emblem on marketing materials (for example, on your packaging, advertisements, stationery and website). Finally, winners are given a Grant of Appointment (an official certificate) and a commemorative crystal trophy.
Cubic is one of a wide range of Surrey businesses – from small firms to large corporations – who have been recognised through The Queen's Award for Enterprise. Its experience reflects many others who have seen their work acknowledged and celebrated through the awards.
The deadline for entries is 1pm on 6 September 2022 and winners are announced on The Queen's personal birthday, 21st April.
See: https://www.surreylieutenancy.org/the-queens-awards-for-enterprise