5th April 2022
| Lieutenancy News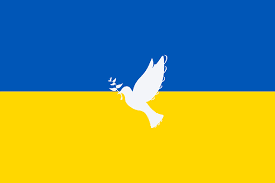 The War in Ukraine: Update from the Surrey Lieutenancy
As we all watch the events in Ukraine unfold with horror, at last there is a really positive story in Surrey where plans are very well advanced to receive Ukrainian families.
Farnham is the centre of a volunteer led, incredibly well organised initiative and over 120 Ukrainians are expected to stay with sponsor families in and around the town. The catalyst behind the scheme is Kate Larmer, a councillor and psychotherapist who lives in Farnham and since the Russian invasion has connected with Tatyana Moskalenko. Tatyana has lived in the UK for 10 years but grew up in Kharkiv and has many friends, family, and contacts who are having to leave the country for their safety and are looking for a safe place to stay.
Kate and Tatyana realised that many families and friends want to be able to stay near each other despite being forced out of their own country. They subsequently reached out to the Farnham community to link prospective sponsors who are willing to provide a safe and secure place with those in need, and matching them with a family, followed by guiding them through the Governments 'Homes for Ukraine' scheme.
The group now known as Farnham Homes For Ukraine has grown rapidly and already over 50 Ukrainian families including 80 children have been matched to a suitable host and the visa application process has begun.
Currently, there are 89 local hosts offering accommodation and the number is growing every day.
The Farnham response has been inspirational. Families and individuals have offered all types of accommodation, have then registered their Ukrainian family members for visas (a labyrinthian task) and now we are seeing visas being granted and hopefully the first Ukrainians arriving.
Preparations are being made everywhere and the level of support and help is humbling. Around Farnham everyone wants to help. Scouts and their families have cleared attics and refurbished them with donated furniture, kitchen equipment, and welcome packs. Cleaning has been taking place around the clock and anything needed has been given by individuals and companies. There has been no hesitation whatsoever for every request, from bed linen to toasters, coffee tables to frying pans.
Last week's support group meeting at Frensham Heights School saw 120 people attend, representing a myriad of local organisations discussing shared concerns and issues, and all ready to reach out to the Ukrainian families. This will provide a really strong support and back up network for the families when they arrive and hopefully will keep everyone in touch. Visas are granted for three years, and this ongoing support will be vital to ensure integration by the Ukrainian in the local community.
Farnham Town Council has been extremely pro active in this whole process, with the Mayor Councillor Alan Earwaker and Town Clerk Iain Lynch helping to coordinate.
Bridget and I are really pleased to be able offer on behalf of the Hampton Estate two properties for two families of four and we look forward to their imminent arrival. The whole farm has been galvanised into action along the lines mentioned above, with great support from family and friends.
We will report again once our families have arrived and are starting to settle. Transport, schooling, language, and mental adjustment are some of the issues which will require our ingenuity and understanding.
The website is www.fhfu.org