3rd November 2022
| Lieutenancy News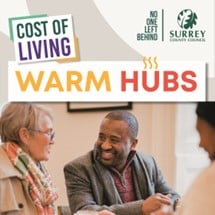 Warm Hubs launched across Surrey
This Winter, Surrey County Council, district, borough town & parish councils have been working together with Surrey's fantastic faith and community groups to open up a network of Warm Hubs that are there to support residents who will be affected by the cost-of-living and energy crisis.
Many millions of UK residents will be affected by soaring energy bills, and Surrey is no different, with tens of thousands of our neighbours, friends, and families being forced to make difficult decisions on whether to heat their homes or eat three meals a day.
We know that many of our homes are poorly insulated, and this combined with the extreme types of weather we've been seeing, as a result of climate change, means this Winter could be even harder. The combination of adverse weather, poorly heated homes and people unable to keep their heating on poses a real threat to people's health.
That's why a network of Warm Hubs has been set up across Surrey to provide support to residents in these challenging times. The Warm Hubs are spaces across the county, where people can drop-in, get warm, have a hot drink and be in the company of other people. Very simply a place to get warm. There will also be people on hand to give free energy advice. Helping people with advice to make their homes more energy efficient and ultimately reduce their fuel bills.
There are currently nearly 70 of these warm spaces that have been opened up in a variety of community spaces including community and church halls, libraries, leisure centres and even museums across the county. For more information on where these Warm Hubs will be visit surreycc.gov.uk/warmhubs