1st June 2021
| Lieutenancy News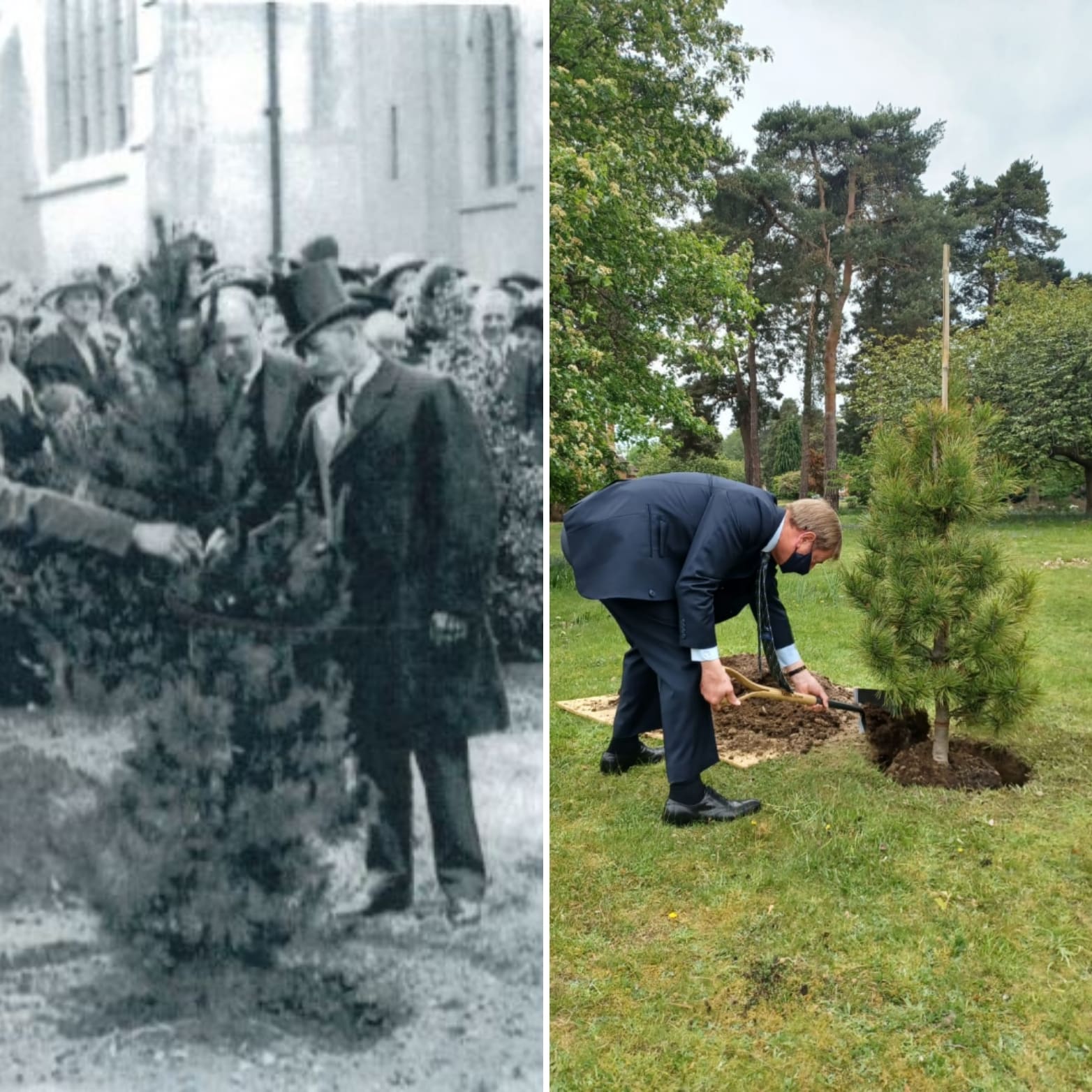 Whiteley Village 100th Celebrations
On 28th May 1921, King George V and Queen Mary visited Whiteley Village for its official opening, and on Friday 28th May 2021, they commemorated that special day in the charity's history with a visit from the Lord-Lieutenant.
Like the King and Queen did a century ago, the Lord-Lieutenant and his wife toured the village meeting villagers, staff and volunteers. One of the highlights was a double tree planting ceremony – again just as the royal couple did outside Whiteley's village church, St Mark's to commemorate their visit. Sadly, neither of those trees survived, so they invited their VIP guests to plant some new ones in almost the same spot, both of which are Swiss Pines – the same species as the first ones, and hopefully longer lasting!
Whiteley Village actually opened in 1917, and over the years the population grew and many of the buildings seen today were constructed – including the Village church, hall and hospital (later Whiteley House nursing home). Trustees were concerned however that time was passing and there had still been no official opening. The Bishop of London made some hopeful enquiries to see if a member of the royal family might do the honours but was informed this was unlikely. So imagine their surprise when a letter later arrived from the Palace announcing that no less than the King and Queen would be visiting on Saturday, 28th May – just four weeks' time! The Trustees quickly got to work to prepare a plan, labourers were hired to spruce up the Village and of course Whiteley's of Bayswater – their founder's flagship store, was commissioned to do the catering.
Hundreds turned out to see the King and Queen and photos of that special day can be seen, along with many other fascinating Whiteley artefacts in their Village Museum, which they hope will be fully open again for visits later in the summer, after Covid restrictions have been further relaxed.