10th March 2022
| The Queen's Platinum Jubilee 2022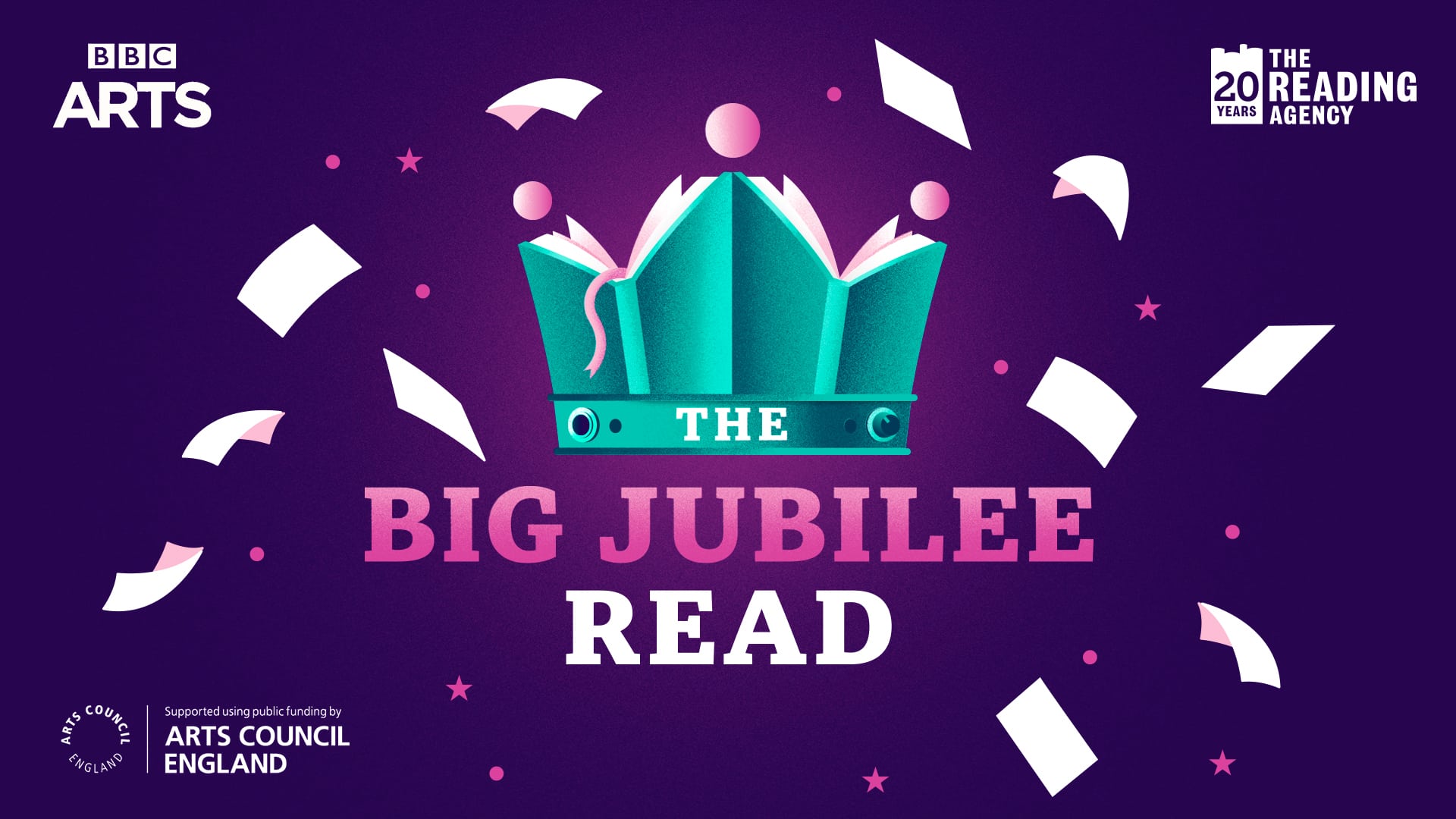 Big Jubilee Read
The Reading Agency and BBC Arts have announced they are delivering the Big Jubilee Read, a reading for pleasure campaign celebrating great reads from across the Commonwealth to coincide with Her Majesty The Queen's Jubilee.
An expert panel of librarians, booksellers and literature specialists have chosen seventy titles from a readers' choice list, with ten books for each decade of Her Majesty's reign. The list offers brilliant, beautiful and thrilling writing produced by authors from a wide range of Commonwealth countries over the last seventy years, to engage all readers in the discovery and celebration of great books. The final list of titles will be announced in April 2022.
Delivered with public libraries, reading groups, publishers, bookshops, and authors, the Big Jubilee Read campaign will use the power of reading to unite the public around the shared stories that define our social and cultural heritage, and will be supported by events and activities in libraries and bookshops, as well as resources to unite reading groups across the country.
The Big Jubilee Read campaign will be delivered in partnership with BBC Arts and The Reading Agency. It is supported by Libraries Connected and the Booksellers Association. It follows on from other collaborations between The Reading Agency and the BBC, including the national Big Read survey in 2003.
Karen Napier, CEO, The Reading Agency said: "We're delighted to mark this historic moment with a campaign celebrating the joy of reading and the power that it has to connect people across the country and among nations. We are thrilled to have libraries collaborating with us on the Big Jubilee Read to bring the booklist to life in the heart of communities and are grateful to members of the public who have put titles forward for this exciting national moment."
Suzy Klein, Head of Arts and Classical Music TV at the BBC said: "Nineteen years on from the Big Read, the Queen's Platinum Jubilee feels like the perfect opportunity to foreground some of the greatest writing from across the Commonwealth in our Big Jubilee Read. The list of 70 books – one for each year of Elizabeth II's reign – is a real opportunity to discover stories from across continents and taking us through the decades, books that we might never have otherwise read, and reading authors whose work deserves a spotlight to be shone on it. It's a really exciting way to share the love of books with readers of all ages, and to give book groups and book borrowers a plethora of great titles to try, borrow, share and discuss."
Meryl Halls, Managing Director of the Booksellers Association, said: "We are delighted to see this wide collaboration creating a moment of celebration around the Queen's Jubilee, and really looking forward to seeing the innovative ways in which bookshops across the UK will embrace the campaign. We will no doubt see booksellers' customary creativity and energy with their reading communities, as they feature and celebrate this diverse range of titles over the spring and summer months leading up to the Jubilee."
Isobel Hunter MBE, Chief Executive, Libraries Connected said: "The Big Jubilee Read showcases the best of Commonwealth writing and helps libraries to introduce readers to writers they might not have come across before. We are delighted to join publishers, booksellers and libraries to work with the BBC and The Reading Agency to help local communities to experience 70 years of fantastic writing."