11th September 2022
| Lieutenancy News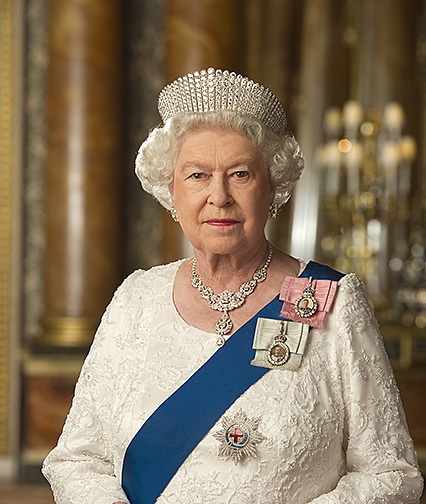 Her Majesty Queen Elizabeth II
Extracts from an address given on 11th September by Vice Lord-Lieutenant – Sir Stephen Lamport GCVO DL at a Service of Commemoration in St Andrew's Church, Cobham.
'There has been a palpable atmosphere of grief and mourning across the country since the death of our beloved Queen on Thursday. Countless tributes have been paid to her by our own leaders and politicians, and by heads of state, heads of government and leaders of many faiths across the world. This was a Queen who was loved and respected not just here in our own country, the realms and across the Commonwealth, but almost everywhere. It is no exaggeration to say she was probably the most widely recognised and widely loved of Heads of State the world has ever known.
But though she was a very public and international figure, at the same time I think we all feel a very personal connection to her. She was our Queen. We all feel we knew her in our own way – partly because she has always been part of our lives; partly because, whether we had ever met her or not, we all had a powerful image of her; and partly because she seemed – at least until the last few months – to represent an unchanging certainty in our lives and for our country. We simply couldn't imagine her not being there, and not symbolising in her person a pride in our country and a pride in those humble and priceless virtues of service and duty which define the very best basis of a civilised society.
We hear countless stories of people breaking down and crying outside Buckingham Palace, Windsor Castle and Balmoral, or of friends telling us they are – literally – heartbroken at this news. It is hardly surprising, therefore, that, in The Queen's own words she used after the destruction of the World Trade Centre, 'grief is the price we pay for our love'. The grief we feel today is just that: a reflection of the love we have had for this uniquely special woman.
I had the very great privilege over some years of having personal contact with The Queen – from my ten years of royal service and later my ten years at Westminster Abbey. That experience reinforced to me all that everyone tells us of her remarkable qualities: her utter devotion to the service of her country; her profound faith; her kindness and thoughtfulness; her genuine care for others – whoever they might be; her love and affection for her family; and her wry and mischievous sense of humour. Because the essence of Queen Elizabeth was, of course, that she was, like of all of us, a human being with the emotions and fragilities we all have….
….And what of the future? This matters so much given the importance of the monarchy, not just as the centre of our constitution, but as the embodiment of service, duty, stability, continuity, pride in our nationhood and care for our long-term future, particularly at a time of such serious national uncertainty. King Charles III, who succeeded The Queen as monarch at the moment of her death, was formally proclaimed Sovereign at St James's Palace yesterday – and earlier today in Surrey at Guildford Cathedral. He has been warmly received by the crowds outside Buckingham Palace. The media have been almost universally supportive. His address to the nation on Friday evening was deeply-felt, powerful and very moving, and I think to all of us heart-warming and reassuring.
I have no doubt that he will be a very good King. He cares deeply about his country. Service and duty are as firmly embedded in his DNA as they were in his mother. He has a wonderful touch with people of every kind, background and faith. He has an insatiably enquiring mind and a total commitment, before as Prince of Wales and now as King, to using his unique position to do good for his country and its peoples. As he has done over five decades: think only, for example of the work of The Prince's Trust. He takes a long-term view of the need to address the world's problems. He is immensely hard-working, combined – again, like his mother – with a wonderful sense of fun and of the ridiculous. Just as his mother was the longest-ever serving monarch, he has been our longest-ever Prince of Wales. That apprenticeship, and the enduring example of his mother, have given him the best possible grounding as King. He has been preciously well prepared for his new role, and we should treasure this gift to us.
Queen Elizabeth, over seven decades, played a remarkable part in all our lives, so much so that we thought her unchangeable by time. The world without her seemed inconceivable. Her death is a source of great grief, sorrow and sadness. We give thanks to God for her love, for her unstinting dedication to us, for her steadfastness, for her overwhelming sense of duty and service. The legacy she leaves us is beyond price. But with her death comes a new beginning. We are fortunate, indeed, that her son – however long he may be given – will himself continue that path, her path, of service and greatness. We are immeasurably fortunate to have him. Through him our grief will become gladness.
God Save The King.'