21st June 2022
| Royal Visits to Surrey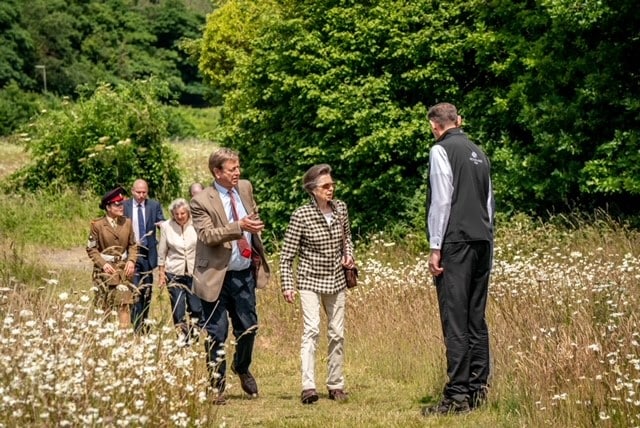 HRH The Princess Royal visits the Woodland Trust's First World War memorial site for England
HRH The Princess Royal visited Langley Vale Wood, formerly an intensively managed farmland, owned and managed by the Woodland Trust, to celebrate the completion of the commemoration features and new car park which will improve accessibility to the site for visitors with a 'Summer Celebration' to thank those who have made it possible through their generosity; both financially and through their time and influence. The site is the Woodland Trust's First World War memorial site for England and commemorates this through a range of stories and sculptures dotted across the landscape. Since 2014 the Woodland Trust has been transforming this former farmland into a haven for people and nature, with 170,000 trees planted with the help of the local community and our generous supporter Sainsbury's.
June is a great time to visit any woodland and Langley Vale is no exception. As the annual display of displays in Little Hurst Wood and Great Hurst Wood, gives way to primroses and cuckooflower (also known as lady's smock), this brings with it food for the larvae of the orange tip butterfly which can be seen on the wing in spring.
Other ancient woodland indicator species, that can be seen at this time of year at the yellow archangel and the wood anemone.
As well as Langley Vale's ancient woodland, the open spaces on site that are havens for rare arable plants. Previously farmland, fields were sprayed with chemicals as part of the modern farming technique but plants in the field margins escaped this treatment. In 2014, when the Woodland Trust purchased the site, just one red hemp nettle, a rare arable plant, was found. In 2021 we recorded over 130. Now Langley Vale Wood has one of the best assemblages of arable plants in the UK, and some are so rare they are of international importance. We have a team of arable plant volunteers who survey the site every summer – our volunteers live locally, and many had no experience of surveying plants before they started.
Rare and declining species are also found at Langley Vale, although visitors would be lucky to spot some of the elusive bird life that lives there. The lapwing tried and failed to breed on site when it was a working farm, but now we are able to maintain a habitat for successful breeding, and the site is the only location for breeding lapwings in Surrey. One of our local volunteers is a registered bird ringer and we've been able to keep track of the chicks at Langley Vale Wood for the last 2 years. It is looking like there will be three breeding pairs of lapwings this year. We've also successfully encouraged barn owls to breed on site after installing raptor boxes in 2020 – as the habitat improves for small mammals, so it does for these owls and other predators.
Butterfly numbers are also increasing – we now have over 40 species, and the dingy skipper was spotted for the first time in 2021. Areas of pure hazel coppice will create open areas within woodland on rotation and are attractive for native butterflies so we hope to see these numbers continue to rise. In June, you can see speckled woods and brimstones on the wing.
To date, Langley Vale Wood hasn't been the easiest site to access for everyone. A lack of parking has meant that only local people have been able to reach the wood, but all this is changing soon. Work to build a car park began at the end of 2021 after a long planning process, and it is due to be completed very soon. This will make getting to this fantastic site easier for many people, and a path network is in the pipeline to make it more accessible. We also have plans for a natural play area for our younger visitors.
Interpretation at Langley Vale
Regiment of Trees
On 22 January 1915, Lord Kitchener, the then Secretary of State for War, famously inspected 20,000 troops at Epsom Downs. In tribute, the Woodland Trust planted a regiment of trees in view of Epsom Downs, which are accompanied by 12 life-size, stone sculptures of First World War military and civilian personnel (by Patrick Walls), evoking stories of the harsh blizzard conditions in which the 20,000 volunteer soldiers waited for Kitchener's arrival, some not even fully kitted out. Together, the sculptures and trees create a living tribute to the civilian men who answered the call to join Kitchener's New Army.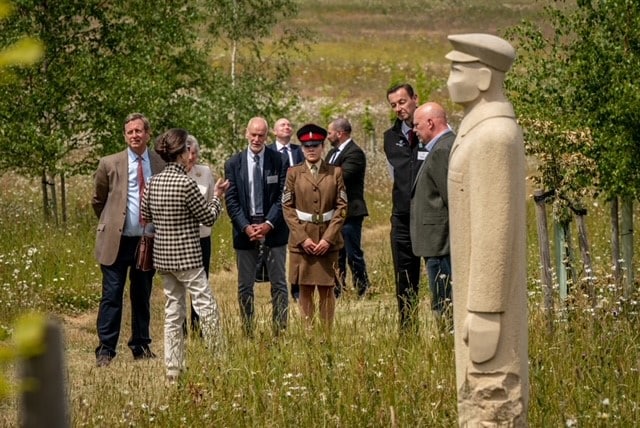 Witness
Created by craftsman John Merrill, using a piece of oak from the childhood home of First World War poet, Wilfred Owen, our 'Witness' sculpture represents the desolate and desecrated trees that stood in no man's land and takes its inspiration from Paul Nash's painting 'Wood on the Downs'. Designed to be wandered around and through, the inside of the sculpture is inscribed with poems from the First World War.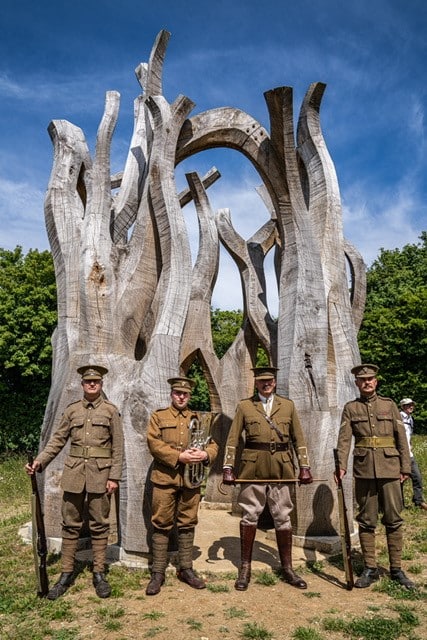 Jutland Wood
Jutland Wood commemorates one of the most important naval battles of the First World War. A striking steel figure by sculptor Christine Charlesworth depicts on one side a sailor in 1916 naval uniform. This side looks to the past – the ancient woodland standing when those sailors were alive. On the other side, a sailor in 2016 uniform contemplates the future – the newly planted trees. 14 porthole markers, crafted by Andrew Lapthorn, stand tall, honouring each of the British warships sunk in the battle inscribed with the number of lives lost from each ship.
Sainsbury's Community Orchard
In February 2017 volunteers from Epsom and the surrounding areas got stuck in planting apple, pear, cherry and plum trees at Langley Vale Wood, creating a unique community orchard on the rolling hills of Surrey. Sainsbury's gifted the Woodland Trust with 4 of their commercial fruit trees to be part of the Orchard.
The Sainsbury's Community Orchard allows visitors and voluntees to be involved with pruning and maintaining the orchard (with training being provided), and also to enjoy harvesting the fruits.