30th September 2020
| Covid-19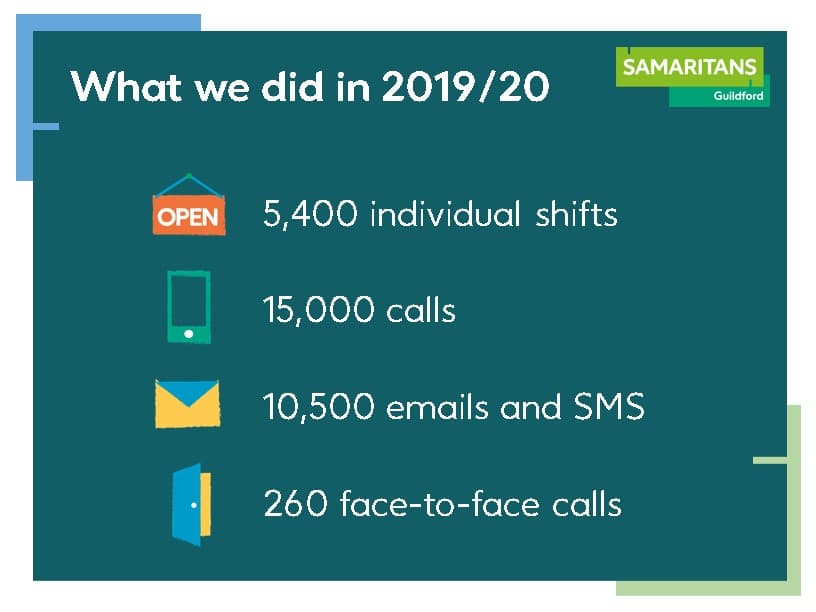 Listening volunteers "There for Everyone" 24/7 – Lord-Lieutenant zooms into Guildford Samaritans AGM
Michael More-Molyneux joined over 70 listening volunteers and his two fellow Patrons for the Guildford Samaritans' AGM via Zoom on 30th September. The meeting heard how the dedicated branch kept this vital service going 24/7 through Lockdown, except for one 24-hour period when it closed for a deep clean! Although over 50 listening volunteers had to self isolate, Samaritans was designated as an essential service so others could travel to the branch to do extra shifts and stepped in at short notice so there was always someone for callers to talk to. One in three of those calling Samaritans wanted to talk about coronavirus and the impact it is having on them.
"We've had more volunteers, more shifts, more calls than before," the Director told the AGM, adding: "Guildford branch is a very strong and mutually supportive family of volunteers who feel valued for whatever contribution they bring to the cause." Strict social distancing and hygiene measures remain in place at the branch, with face-to-face visits and outreach activity still suspended – although Samaritans from Guildford have supported the teams of Listeners in HMP Send and Coldingley remotely over the past months. Essential recruitment and training is happening virtually by Zoom and, since the charity's shop in Godalming reopened in mid June, sales and donations have been excellent.
Long Service Awards were presented remotely during the meeting, which ended with the outgoing national Chair of Samaritans, Jenni McCartney, reflecting on the triumphs and challenges of her six-year role at "the fourth emergency service". She spoke of the recent launch of Webchat to connect with more young people – suicide is the biggest killer of those aged 20-34 and online chat could change everything.
"Critical, demanding work and a really outstanding charity – proud to be a Patron" tweeted the Lord-Lieutenant.