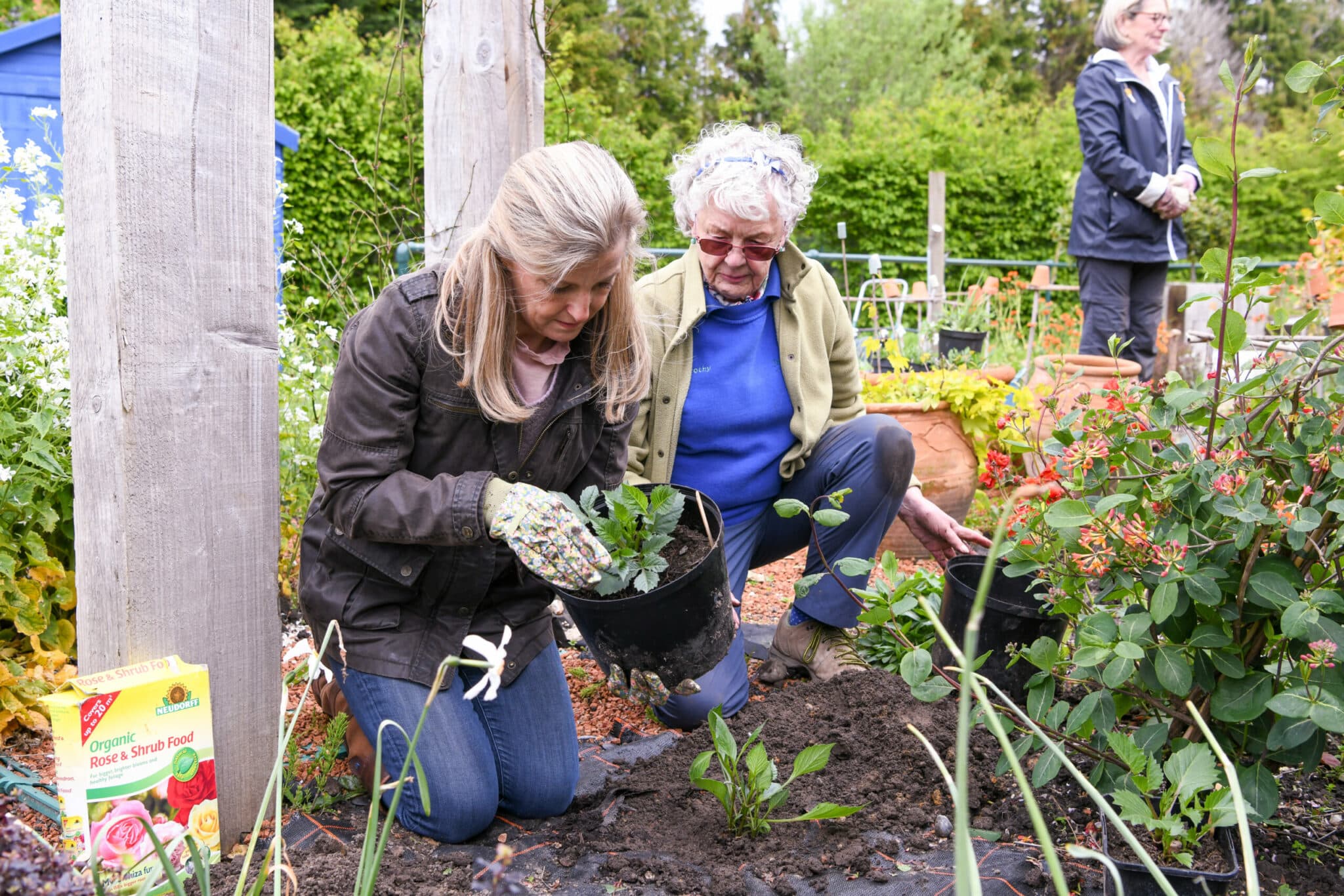 Royal celebration of volunteers
Volunteers, clients and staff were all delighted to welcome HRH the Countess of Wessex to The Therapy Garden in Normandy yesterday.
Accompanied by the Lord Lieutenant of Surrey, the Countess joined in several of the activities that clients and volunteers typically participate in and chatted openly about the social and therapeutic benefits of horticulture. The activities included the preparation of 'TTG@Home' boxes containing tabletop horticultural projects to send to clients still unable to attend the garden due to the pandemic.
As an honorary member of the Garden's volunteer team for the day, the Countess, herself a keen gardener, worked enthusiastically alongside clients and enjoyed potting seedlings in the polytunnel and planting tomatoes in the Garden's fabulous new raised beds.
After enjoying coffee and mingling with the team of volunteers, most of whom have only recently been able to return to the Garden, the Countess used her eye for presentation to stock the Garden's new market cart with beautiful plants for sale. The cart is displayed outside the Therapy Garden gate every Friday morning and other mornings in fine weather. Plant sales are an important part of the Garden's fundraising efforts.
The Countess concluded the visit by planting new dahlias in the cut flower garden, before being presented with a posy of flowers from the Garden to take home.
The Therapy Garden works to have a positive and significant impact on the lives of people facing challenges in life through the power of gardening and by connecting with nature. If you're interested in volunteering at the Garden or know someone who might benefit from attending the Garden as a client, or would like to make a donation, please visit www.thetherapygarden.org for details.