19th March 2021
| Covid-19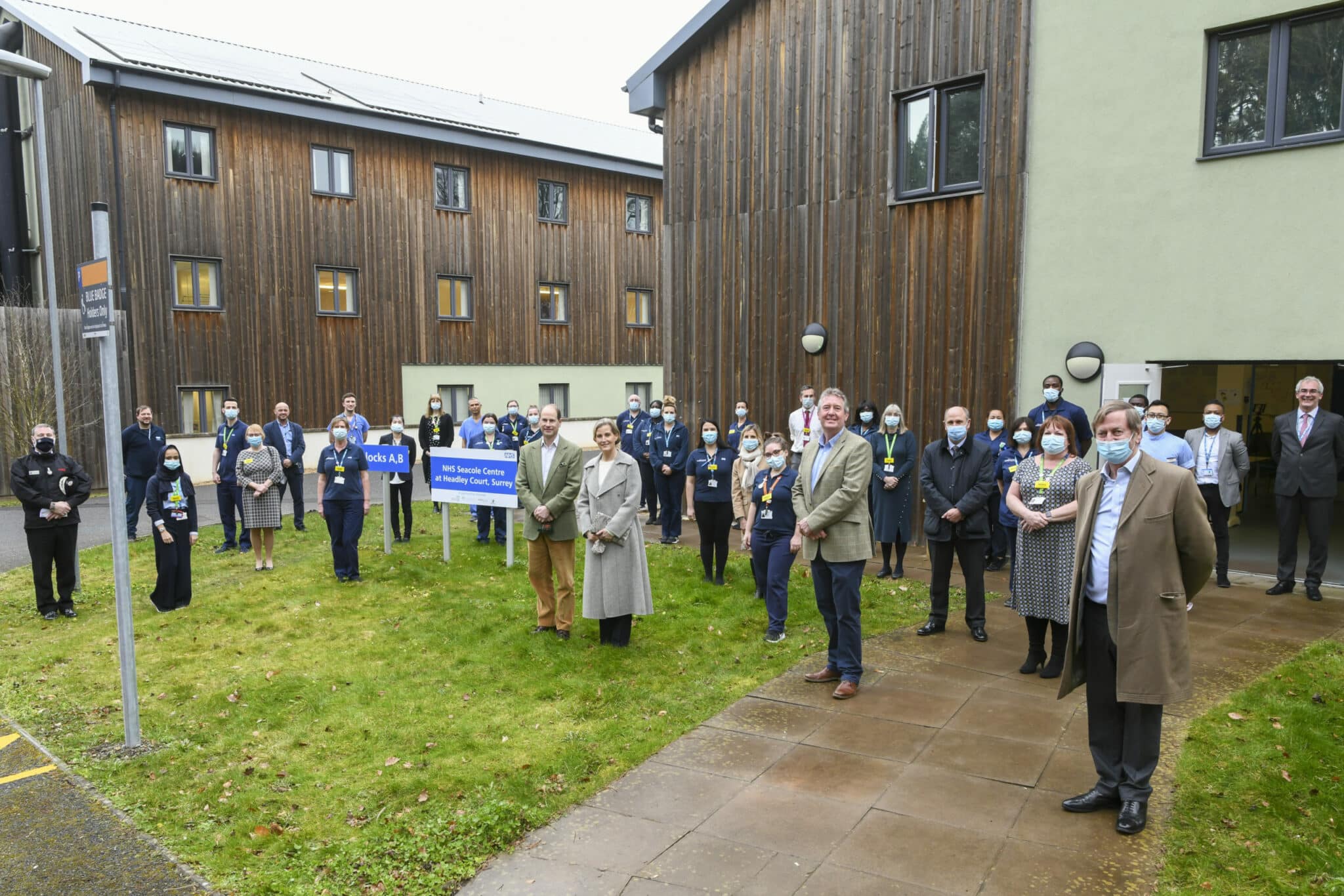 Royal guests praise public sector staff at the core of Surrey's Covid-19 response
Yesterday (Thursday 18 March) The Earl and Countess of Wessex visited Surrey's temporary community hospital at Headley Court which was opened in June as a result of the joint partnership between the NHS and Surrey's Local Resilience Forum (SLRF) in response to the Covid-19 pandemic.
Their Royal Highnesses were welcomed to the NHS Seacole Centre, a former military hospital, by the Chair of SLRF Steve Owen-Hughes, Director of NHS Surrey Heartlands Clinical Commissioning Group (CCG) Elaine Newton and landowner of Headley Court Tony Williamson.
They praised and thanked staff and volunteers for their hard work on the frontline during the pandemic.
Speaking following the visit, Steve Owen-Hughes said: "The Earl and Countess of Wessex have been involved throughout our journey of responding to the pandemic here in Surrey. They have undertaken a number of visits and calls, joining us and our frontline teams both in person and online for meetings to understand how we are responding and providing support. Visits like this are not only a great opportunity to update Their Royal Highnesses, but they're also a tremendous morale boost for our teams who continue to work hard to keep people safe.
"SLRF is made up of Surrey's emergency services and other public sector organisations, the voluntary sector and the military when required – planning and coordinating the efforts of organisations to respond whenever there is a local or national crisis.
"During the pandemic, the SLRF focused on helping our communities and businesses, whilst supporting the NHS and other organisations to deliver frontline care. In line with the government's road map we are currently focused on the transition from response to recovery, standing down from Major Incident footing, which we have maintained since the 19th of March last year, at the appropriate time."
Elaine Newton, Director of Planning and Emergency Preparedness at NHS Surrey Heartlands CCG said: "The temporary facility here at Headley Court is a great example of the incredible partnership working between Surrey partners over the past year in our response to the pandemic. We are really proud of the way we all came together to stand this facility up almost 12 months ago, and it feels a very fitting tribute to have been able to welcome The Earl and Countess of Wessex here today to meet and thank frontline staff from across our partnership."
Daniel Elkeles, Chief Executive of Epsom and St Helier University Hospitals NHS Trust, said: "We were honoured to welcome Their Royal Highnesses to the NHS Seacole Centre, where they met with NHS staff who have provided frontline care to more than 350 patients from this dedicated rehab facility.
"We would like to thank The Earl and Countess of Wessex for joining us yesterday and taking the time to speak to staff and hear the extraordinary story of NHS Seacole – from transforming an almost derelict site within just 35 days, to providing care that surrounds our patients with a dedicated team of doctors, nurses, HCAs, physios and OTs. The Seacole's success is testament to the phenomenal hard work and staggering achievements of those staff and those in our community Covid rehabilitation services, as well as the amazing partnership with the emergency services and council colleagues who together enabled what has been a truly ground-breaking response to an unprecedented challenge."
Their Royal Highnesses also spent time with staff from Surrey Fire and Rescue Service, Surrey Police, Surrey County Council, hospital mortuaries and the Coronial Service.