24th September 2020
| Covid-19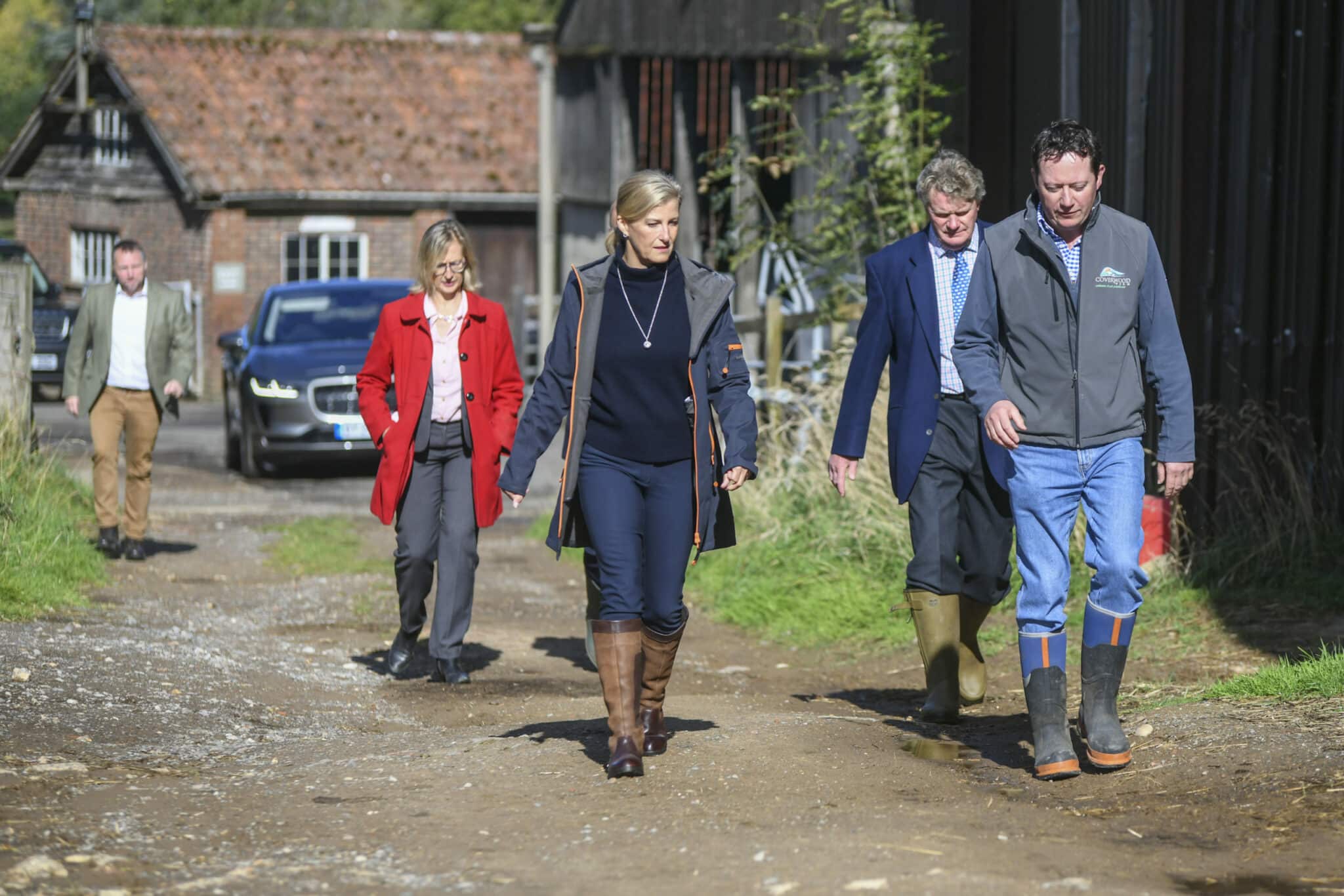 Surrey Hills "Field to Fork" Royal Visit
HRH The Countess of Wessex GCVO visited Surrey Hills producers and retailers in recognition of their exemplary' field to fork' collaboration following the path from 'Provenance Cuts' at Coverwood Farm, to Surrey Hills Butchers and Squires Food Hall in Frensham.
The visit highlighted the importance of local food production, the challenges and opportunities facing farmers and food producers and the opportunities to meet the growing interest in supporting and buying locally and sustainably.
The importance and popularity of locally produced food and "field to fork" tracing has never been higher – ticking all the boxes of sustainability, reduced carbon footprint, high quality local collaboration and exceptional taste.
The Royal visit began at Coverwood Farm near Peaslake where Her Royal Highness met Bill Biddell, DL and farmer Tim Metson, his family and staff who produce premium, sustainable, pasture fed beef. Mr Metson spoke about the key challenges and opportunities faced by farmers as a result of the crisis and other issues facing farmers including pasture fed meat production.
The Metson family were delighted to have HRH The Countess of Wessex officially open their new 'Provenance Cuts' building, a new facility purpose built to process and butcher locally farmed, sustainable meat. Refreshments were served from the farm's 'airstream' van, The Fillet and Bean, used to support villages with food and drink during the lock-down.
HRH continued her "field to fork" visit to the Food Hall at Squire's Garden Centres in Frensham where she was introduced to Wendy Varcoe Executive Director of Surrey Hills Enterprises who explained the collaboration between Surrey Hills Members awarded the Trade Mark Surrey Hills, a Mark of local provenance, quality and sustainability. Her Royal Highness met Sarah Squires, Chairman and Martin Breddy, Managing Director who provided a tour around the Food Hall showcasing an impressive range of high-quality local produce and meeting staff who had worked throughout the lock down to provide food for the local community.
Her Royal Highness met Simon Taylor of Surrey Hills Butchers and Captain of Team GB for Butchery and specializing in high quality, ethical and locally sourced pasture fed meat. Mr Taylor reiterated the importance of collaboration with local farms such as Coverwood Farm and the urgent need to raise awareness of the importance of high quality, sustainable and ethically sourced food.