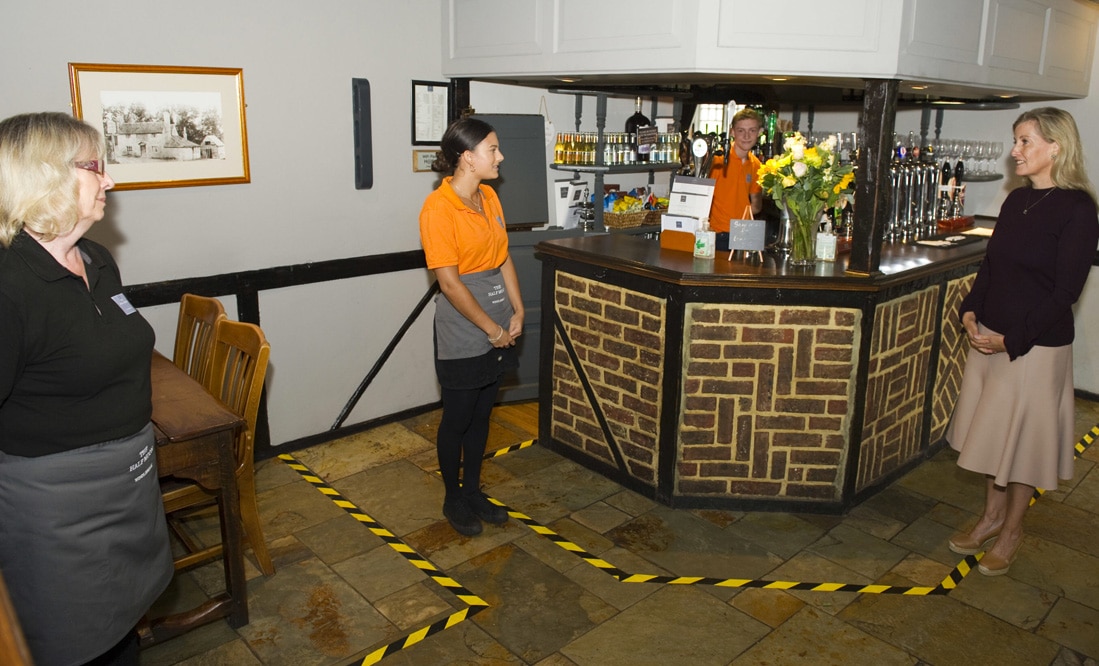 The Countess of Wessex joins fellow WI Members for a catch-up at local Surrey pub
The Countess of Wessex today joined fellow members of the Bagshot Women's Institute for a catch-up at the Half Moon pub in Windlesham, Surrey, which re-opened at the weekend. Members of the group had been keeping in touch via video calls, but have recently started meeting up in small groups for socially distanced catch-ups.
In the pub garden, The Countess spoke to the WI Members about some of the things that they and others have been doing to support the coronavirus response efforts during lockdown, including sewing PPE and scrub bags for the local hospital, Frimley Park, and baking for key workers, including the local fire service. The Countess has been a member of Bagshot WI since 2007 and was due to speak at the cancelled WI Annual Meeting in June.
During her visit to the Half Moon, The Countess met the pub's owners, the Sturt family, as well as kitchen and bar staff, to hear how the business has been affected by COVID-19 and lockdown. Conrad Sturt, who runs the pub with his mother, spoke to Her Royal Highness about the challenges they had encountered and how the business has adapted to new guidelines in order to welcome patrons again, including a Contact and Trace system at the entrance and a new table layout.
The Half Moon pub has been in the Sturt family since 1909, and during the visit The Countess met three generations of the family who are currently involved in its day-to-day running. The Half Moon plays a huge part in the local community and during lockdown they were able to introduce a delivery and takeaway food and drink service, to support those unable to leave their homes, self-isolating or working on the frontline. The pub dates back to the 17th century and was originally a Coaching Inn and General Stores for The Duke of Connaught.