8th December 2020
| Covid-19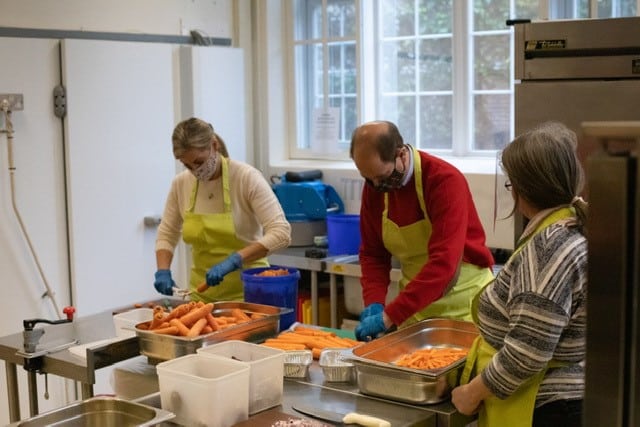 The Earl & Countess of Wessex join volunteers at FoodWise, 8th December 2020
The Earl and Countess of Wessex visited FoodWise based at the Moorcroft Community Centre on Tuesday 8th December to see how the charity has served the Guildford and Woking community since the Covid-19 outbreak by delivering frozen meals to families.
Foodwise, a small charity based in Guildford, and serving both Guildford and Woking, originally delivered Cooking on a Budget courses, teaching families to cook cheap nutritious meals. However, since the outbreak of Covid-19 the charity has adapted, and since late March 2020 has delivered in excess of 30,000 meals to over 300 families in Guildford and Woking with huge support from volunteers, Stoke Community Support and supporting Churches.
Foodwise is continuing to support families via freezers placed in schools in Guildford and Woking, helped by HomeStart volunteers, giving meals to sustain families over the weekend. Additionally, other families in Guildford and Woking also get food delivered to them via volunteers working from St Andrew's Church, Goldsworth Park and direct from Moorcroft Community Centre. Over 400 meals per week are regularly being received through this process.
The Earl and Countess of Wessex spent some time in the kitchen chopping vegetables and helping the chef to prepare meals, before meeting and thanking some of the volunteers who have helped with the delivery of the meals to the families.