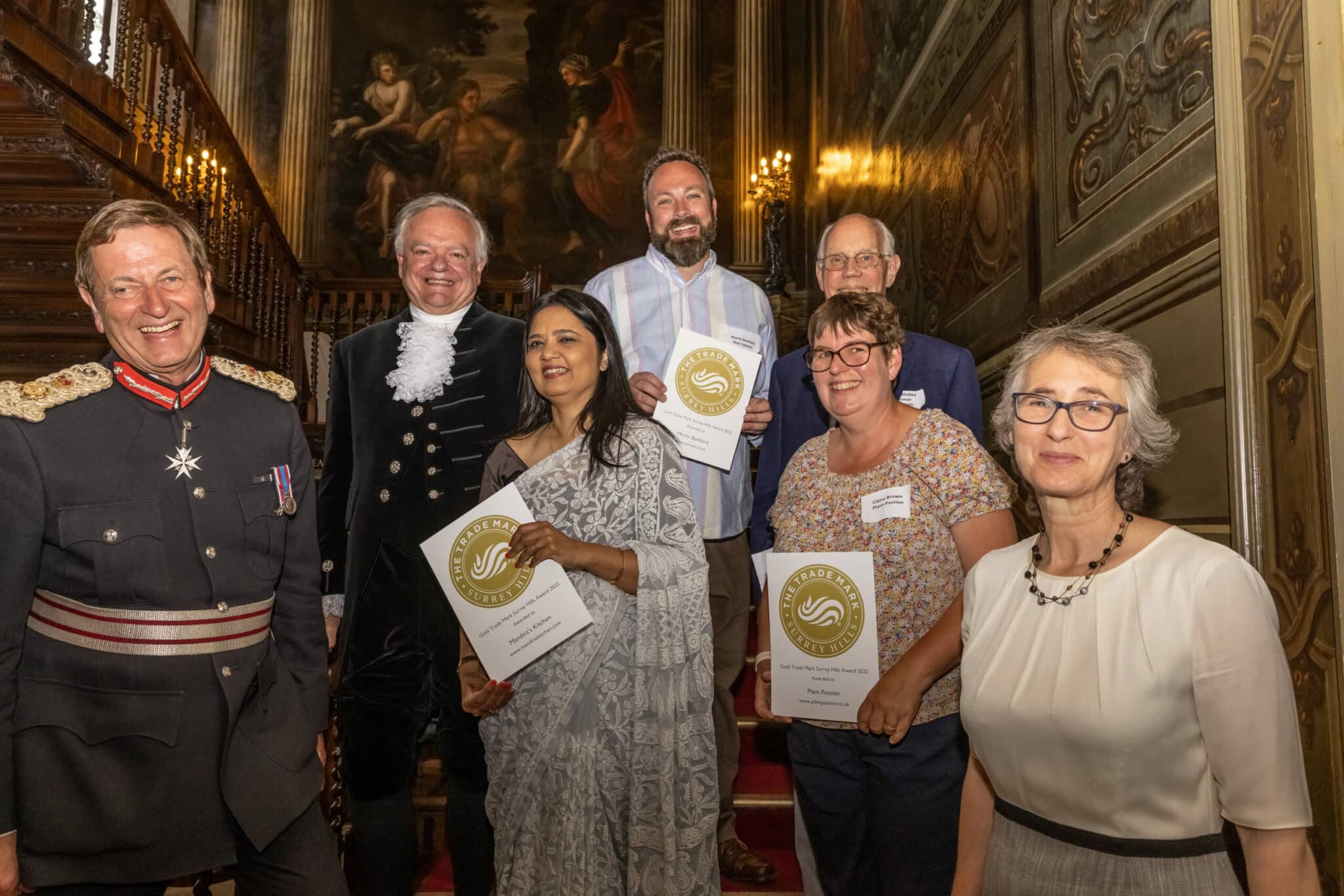 Surrey Hills Enterprises' 10th Anniversary – Fetcham Park
On 21st June, The Lord-Lieutenant attended a special event at Fetcham Park to mark the 10th anniversary of community interest company Surrey Hills Enterprises and to celebrate the outstanding successes of some of the very best local Surrey Hills' businesses.
Surrey Hills Enterprises, was founded 10 years ago to work with local businesses to support the rural economy and promote, protect and enhance the Surrey Hills Area of Outstanding Natural Beauty (AONB) and, a decade on, continues to go from strength to strength.
Joined by current members, corporate partners, trustees and a number of VIP invitees, guests were officially welcomed to the anniversary event by The Lord-Lieutenant, Simon Whalley, Chairman, Wendy Varcoe MBE, Executive Director of Surrey Hills Enterprises, and Sandra and Malcolm Young, owners of Fetcham Park.
Welcome cocktails were served by Binary Botanical, sustainably-made beer brewed from waste bread provided by Crumbs Brewing, and espresso martinis from Chimney Fire Coffee and Silent Pool. The evening offered the chance for local business people to meet, network and celebrate.
The Lord-Lieutenant, who is also a Patron of Surrey Hills Enterprises, said:
"I applaud Surrey Hills Enterprises on reaching this pivotal milestone and for their ongoing work in supporting Surrey Hills' businesses and the wider economy and landscape. Now, more than ever, it is essential that we recognise the commitment of Surrey's small businesses and their key efforts in working towards a more sustainable future for the region."
As part of the landmark event, Surrey Hills Enterprises presented three special businesses and individuals with the coveted Gold Trade Mark Awards 2022. Introduced and presented by The Lord-Lieutenant, the Gold Trade Mark Awards were bestowed in recognition of the winners particularly excelling in their dedication towards improving environmental sustainability, the inspiration they provide to others and their collaboration and connection with other Surrey Hills Enterprises members and their local community.
The first award was presented to the Founder of Plant Passion, Claire Brown. Based in East Clandon, Plant Passion grows seasonal sustainable flowers that are sold locally to florists, for events, and as bunches and bouquets. Seasonal, scented and sustainable, all blooms are of the very highest quality and grown on the flower farm at the heart of the Surrey Hills, ensuring they are the best and most sustainable English cut flowers, something that Plant Passion prides themselves on.
Mandira Sarkar at Mandira's Kitchen received the second Gold Trade Mark Award 2022. Producing award-winning Indian meals from a beautiful location alongside the Silent Pool in Albury. Mandira's Kitchen dishes are handmade in small batches using fresh produce and family traditions. They can be purchased on site or delivered directly to customers' homes, with meals containing no preservatives, and frozen to keep the flavour and goodness intact.
Martin Bamford, CEO of Bear Content, a content production agency working with small businesses in the Surrey Hills and beyond to create video, blog and podcast content marketing, was the third and final awardee. The first time that a Gold Trade Mark has been bestowed on an individual, Martin received the award in recognition of his commitment and the time he gives to Surrey Hills and the local community in Cranleigh, as well as his inspiration to others.
Simon Whalley, Chairman of Surrey Hills Enterprises congratulated the three winners on their Gold Trade Mark Awards,
"The Gold Trade Mark Award was created to recognise excellence in environmental sustainability as well as support for the Surrey Hills and other local businesses and it is clear that all three of this year's winners exemplify this and more. We are very proud to have Plant Passion, Mandira's Kitchen and Martin Bamford as pivotal Surrey Hills Enterprises' members and wholeheartedly congratulate them on this achievement. We wish them ongoing good fortune for the future."
The evening culminated in a toast to Surrey Hills Enterprises and its members, led by The High Sheriff of Surrey, HH Christopher Critchlow DL, inviting guests to look forward in anticipation of the next 10 years of success.
For more information about membership and the work of Surrey Hills Enterprises, visit: www.surreyhillsenterprises.co.uk